Top 3 Best Cinema 4D render farm 2023
Are you finding a render farm for rendering C4D? In this article, VFXRendering shows you the Top 3 Best Cinema 4D render farm 2023.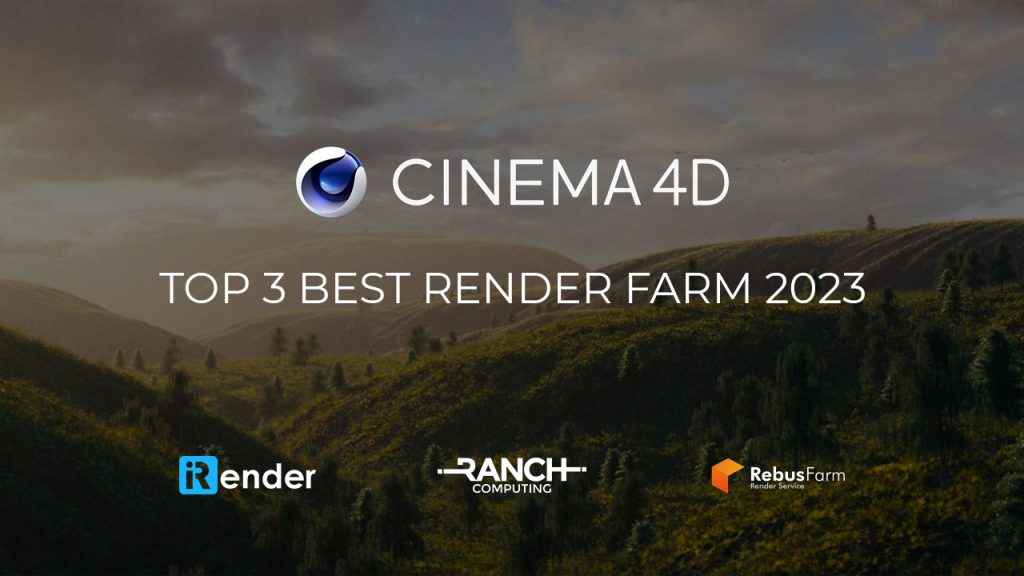 What is Cinema 4D?
Cinema 4D is a big name in the 3D creation program. Developed by the German-based company Maxon, Cinema 4D is an all-purpose solution for all individuals and studios, whether you are modeling, texturing, lighting, animating, simulating, or rendering. The software comes with dozens of robust tools you can use for all types of visualizations such as design, motion graphics, visual effects, AR/MR/VR, game development, etc.
C4D is frequently used to create stunning visual effects on the big screen. You may have seen a product that is created with Cinema 4D. It could be a blockbuster movie, a television show, or an advertising campaign. Moreover, Cinema 4D is user-friendly and straightforward, making it excellent for beginners. On top of that, its creator – Maxon offers a huge resource of video tutorials and regular webinars from the company's training team.
Same as any other software, Cinema 4D will need certain hardware to run smoothly. Check out its requirements below.
Cinema 4D 2023 System Requirements
Operating System
Windows 11/10.
macOS 10.15.7 or above.
CentOS 7 (64-bit).
Ubuntu 18.04 LTS (64-bit).
Processor
Windows: 64-bit AMD and Intel CPU which supports AVX.
macOS: CPU from Apple M1/M2-powered Mac. Or Intel-based Apple Macintosh CPU which supports AVX.
System memory
Windows: 8 GB RAM as a minimum, 16 GB RAM as recommended.
macOS: 4 GB RAM as a minimum, 8 GB RAM as recommended.
Graphics card
Windows: NVIDIA Maxwell GPU, AMD Polaris (AMD GCN 4), Intel Kaby Lake, or newer support DirectX 12 with feature level 11.0 as a minimum.
macOS: officially supported GPUs by Apple or macOS GPUFamily1 v3 or higher.
Top 3 Best Cinema 4D render farm 2023
From Cinema 4D 2023 requirements above, we know which system is needed to make your workflow in Cinema 4D smooth and effective, especially for the rendering process. Needless to say, rendering can be the most time-consuming and resource-intensive in 3D production. It may take hours or days to complete small to medium-sized renders (not to mention high-end or large-scale projects). Moreover, the rendering process occupies your PC or laptop, not letting you use it for other work. Or else, it would crash.
So, that is where a cloud render farm comes in handy. A render farm is a group of connected computers dedicated to  3D rendering and other processing tasks. There are several benefits of using a cloud render farm. Some notable benefits are to increase your rendering speed, boost your productivity and save your time and money.
Last year, we introduced to you the 6 best render farms for Cinema 4D, which are iRender Farm, RebusFarm, Fox Renderfarm, Ranch Computing, GarageFarm, and Renderboost. In this 2023, we will narrow the list down to the Top 3, and update it with the latest information regarding render farms for Cinema 4D.
Let's find out which render farm will be in the Top 3 Best Cinema 4D render farm 2023.
CPU: AMD Ryzen Threadripper PRO 3955WX and AMD Ryzen Threadripper PRO 5975WX processors.
GPU: NVIDIA RTX 3090 and RTX 4090 cards.
RAM per node: 256 GB.
Price: $8.2 – $42/node/hour
Cinema 4D: Any release such as Cinema 4D 2023, Cinema 4D R2x, Cinema 4D S2x, Cinema 4D R1x.
Renderer: Redshift, OctaneRender, Arnold, V-Ray, Cycles 4D, Standard/Physical Renderer, Corona, Maxwell Render, etc.
Plugin: Any plugin.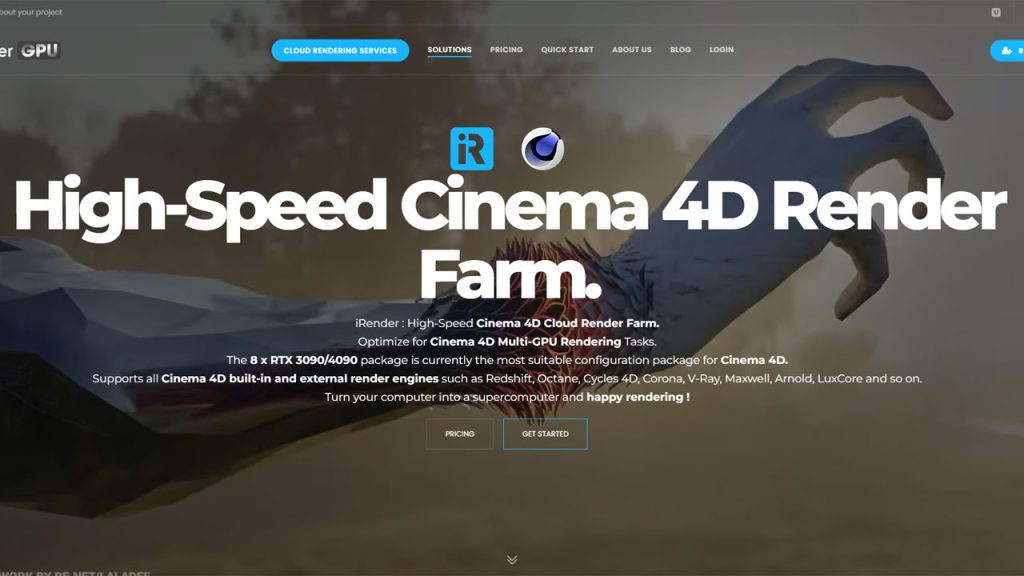 iRender Farm is a GPU-accelerated cloud render farm for Cinema 4D. It is an IaaS (Infrastructure-as-a-Service) render farm that enables users to take complete control of the remote server via the Internet. On the remote server, you are able to install whatever software, renderers, or plugins you need to process your demanding tasks. Specifically, you can use any render engine for Cinema 4D, whether it is C4D's native Standard/Physical Renderer or external renderers such as Redshift, OctaneRender, Arnold, V-Ray, Cycles 4D, and many more.
Moreover, iRender offers the latest NVIDIA graphics cards, the RTX 4090 or RTX 3090, on their servers. What is exceptional about iRender is that it allows us to select the number of GPUs in one server depending on our needs. At the moment, there are servers with 1 RTX 4090, 2 RTX 3090/4090, 4 RTX 4090, 6 RTX 4090, and 8 RTX 3090. The price varies according to the servers, from $8.2 per node hour to $42 per node hour.
CPU: Dual Xeon E5-2697A v4 and Dual Xeon E5-2690 v2 processors.
GPU: NVIDIA cards with 11- 24 GB VRAM.
RAM per node: 128 GB or 256 GB.
Price: €0.016 – €0.039/GhzH for CPU farm and €0.009 - €0.015 Obh for GPU farm.
Cinema 4D: Cinema 4D 2023, Cinema 4D R17 – S26.
Renderer: Redshift, Octane, Arnold, V-Ray, Cycles 4D, Standard/Physical Renderer, Corona, ProRender.
Plugin: Many plugins including Anima, Forester, Insydium Fused Collection, Laubwerk Plants Kits, MeshTools, Ornatrix, Signal, TerraformFX, etc.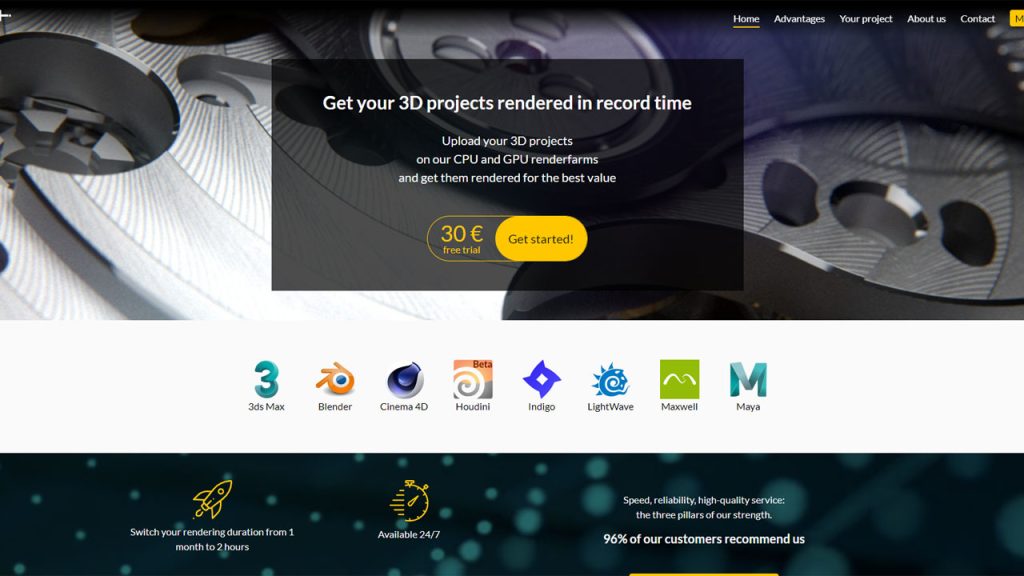 Ranch Computing is a high-performance rendering service for CPU and GPU projects which is based on the SaaS (Software-as-a-Service) model. Its goal has been to enable any graphic artist, regardless of their field of business to calmly approach the rendering process to fulfill their deadlines and budgets. As a SaaS render farm, Ranch Computing enables users to send their projects directly from the application interface or through the web manager. It provides 2 tools, Ranchecker and Ranchsync to help you with the process.
Though Ranch Computing does not show the specifications of the nodes (like iRender Farm), it allows you to choose a suitable rendering priority. For example, CPU farm has
CPU-Low, CPU-Low-256, CPU-Medium, CPU-High, and Elite priorities. Each comes with a different number of nodes, and RAM capacity. GPU farm is similar, having GPU-Low, GPU-24-VRAM, GPU-Medium, and GPU-High. Each GPU priority comes with a different number of nodes or GPU cards, and VRAM capacity. The higher priority, the higher price.
CPU: AMD's Threadripper 3970X.
GPU: NVIDIA's Quadro RTX 6000.
RAM per node: 64 – 256 GB
Price: 1.29 cents/GhzH for CPU rendering and 0.48 cents/Obh for GPU rendering.
Cinema 4D: Cinema 4D 2023, Cinema 4D R14 – S26.
Renderer: Advanced/Physical Renderer, Arnold, Corona, Octane, Redshift, V-Ray.
Plugin: Atmosphere, AXYZ Anima, Forester, GrassKit, Hot 4D, IvyGrow, Laubwerk, Surface Spread, X-Particles.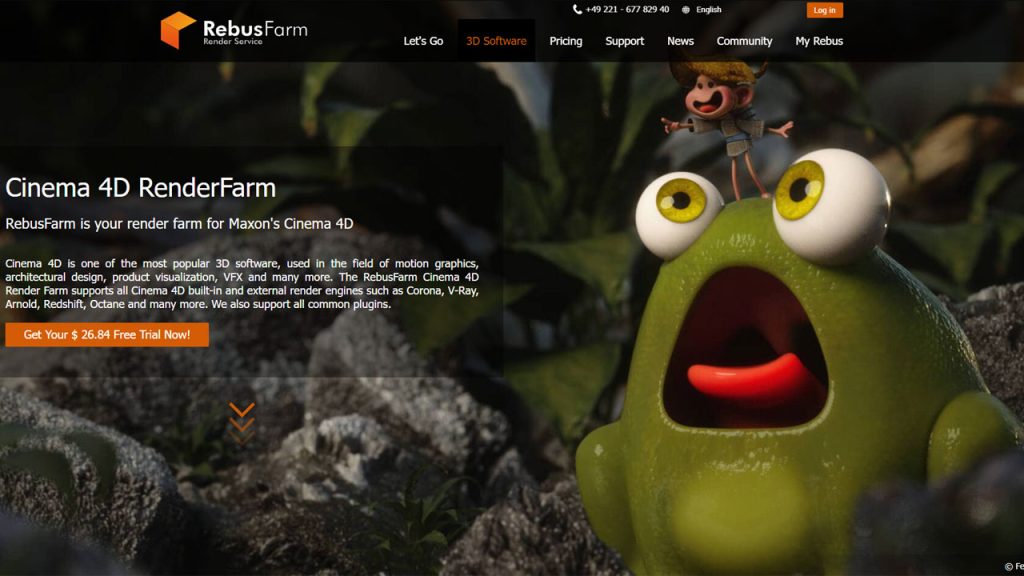 RebusFarm is a trusted cloud render service that works with studios all around the world. With 17 years of experience in the field of 3D rendering, it has steadily improved to become one of the best render farms in the world. No matter if you are a freelancer, a studio, or a student, this render farm can serve you all. Same as Ranch Computing, RebusFarm is based on SaaS (Software-as-a-Service) model. That means you can send the projects right from your 3D application, thanks to the help of RebusFarm Farminizer Software, specifically Rebusdrop.
Regarding the hardware, RebusFarm uses a powerful CPU and GPU, which is AMD Threadripper 3970X and NVIDIA Quadro RTX 6000. It separates Cinema 4D rendering into two categories, each with its own set of supported software. For example, at 1.29 cents/GHzH, RebusFarm offers CPU rendering with Advanced/Physical Renderer, Arnold, Corona, and V-Ray. Meanwhile, GPU rendering in Cinema 4D is available with Redshift and Octane, which cost 0.48 cents/Obh. In addition, you can select various priorities to get you in front of the queue.
Final thoughts – Top 3 Best Cinema 4D render farm 2023
In conclusion, in this article, VFXRendering introduces to you the Top 3 Best Cinema 4D render farm 2023: iRender Farm, Ranch Computing, and RebusFarm. They support a variety of Cinema 4D versions with a lot of renderers and plugins. Furthermore, these three render farms support both CPU and GPU rendering for C4D as well as support Octane for C4D.
See more: