3D Rendering Software: All about you need
3D rendering software is an indispensable tool for designers to make their work more forceful. The world of 3D rendering still contains a lot of information that we cannot fully grasp. In the article below, VFX Rendering will show all you need to know about 3D rendering software.
1. What is 3D rendering software?
Using computer software, 3D rendering is the process of creating an image from a model. We use 3D rendering software for design visualization and visual effects in architecture, simulators, video games, movies, and television. The final phase in the animation process, 3D rendering, provides the models and animation their final appearance by adding visual effects including shading, texture-mapping, shadows, reflections, and motion blur.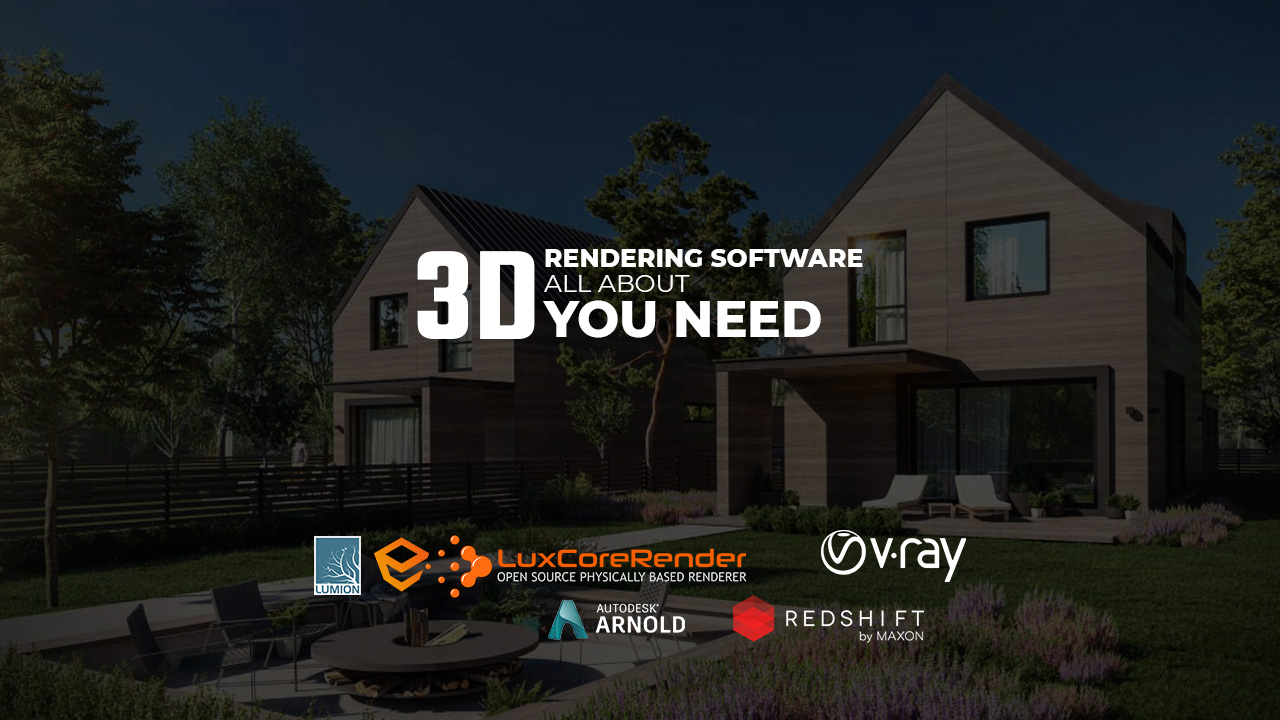 2. What is the best 3D rendering software?
2.1 Top best free 3D render engine
LuxCoreRender
Standalone Version OS: Windows, macOS, Linux
Integrations: 3ds Max, Blender
Key features:
Optimized rendering methods. Numerous render algorithms are included in LuxCoreRender. The appropriate algorithm can considerably speed up rendering depending on the type of scene and whether you're rendering a single image or an animation.
Materials & Textures. Numerous material kinds are available in LuxCoreRender. Physically accurate depictions of metal, glass and automobile paint are provided in addition to generic materials like matte, glossy, or the Disney principled shader.
Lighting. Support for emitters and ambient light sources is provided by LuxCoreRender. The light distribution pattern of a light source can be precisely defined using photometric data in the form of IES diagrams.
Light Groups. Light groups allow for the generation of multiple light scenarios from a single rendering or the real-time balancing of light sources while rendering without affecting the generated samples. The color temperature and intensity of each light source can be changed instantly.
Volumes. A strong volume system that can simulate physical absorption and scattering is part of LuxCoreRender. RGB values can be used to define absorption, and scattering can be single or multiple with asymmetry that is specified by the user.
Instances. LuxCoreRender's support for instances will dramatically reduce system resources, particularly memory consumption, while working on large projects with numerous copies of the same object.
Cameras. LuxcoreRender support 3 types of cameras: perspective, orthographic, and environment.
Motion Blur, Depth Of Field, and Lens Effects. True motion blur is a feature of LuxCoreRender for both the camera and specific objects.
Tone mapping. The outcome of each light computation is saved internally by LuxCoreRender as high dynamic range values. These values can be transformed into a standard low dynamic range image using either linear or non-linear (Reinhard) tone mapping techniques.
Price: Free ( Free trial)
Standalone Version OS: Windows, macOS, Linux
Integrations: 3ds Max, Houdini, Maya, Cinema 4D, Katana, Softimage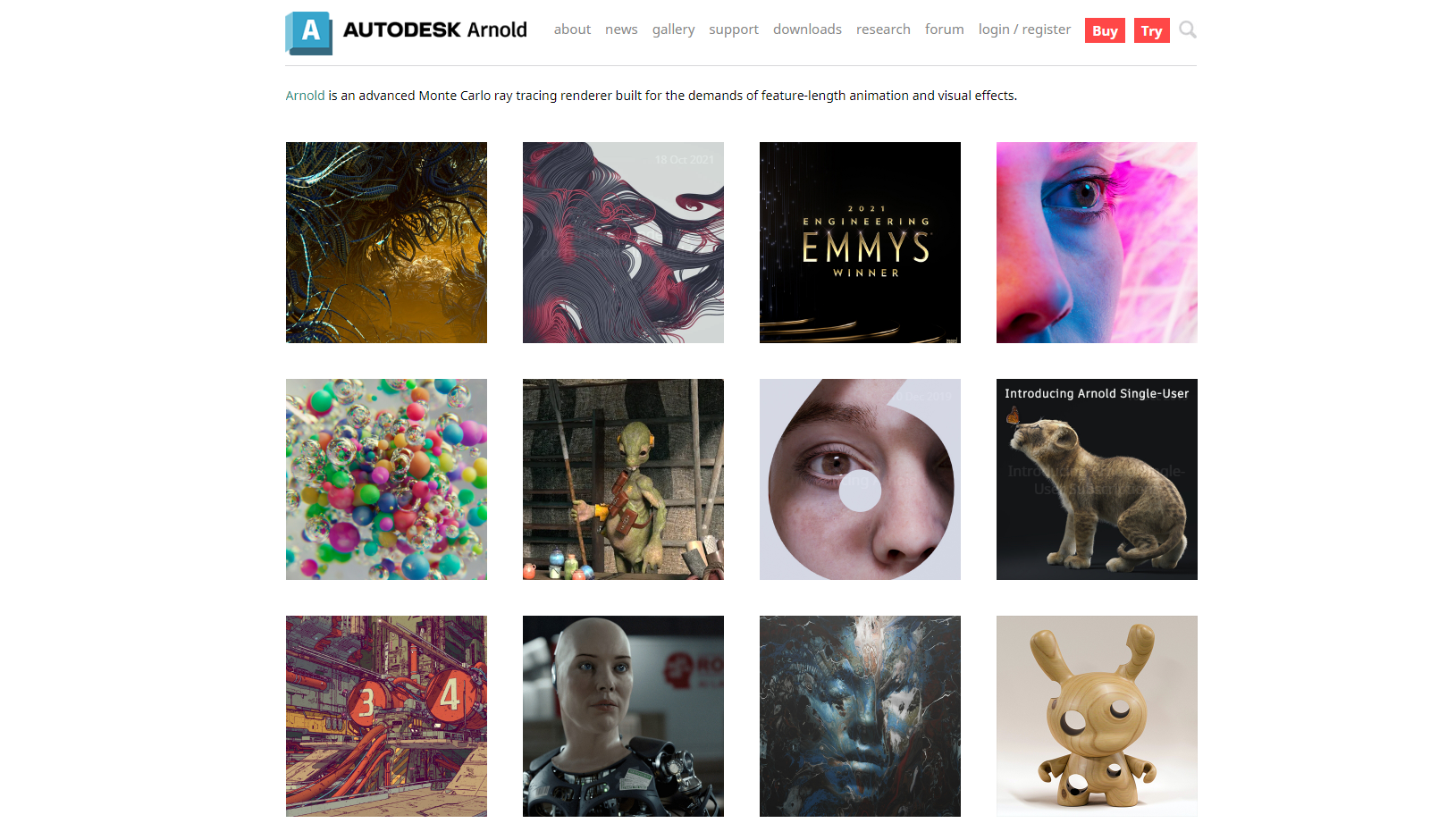 System requirements
Arnold works well on most 64-bit systems.
OSX 10.11 or later
Windows 7 higher
Glibc 2.12 and libstdc++ 3.4.13 at the very least (GCC 4.4.7). This is equivalent to the SSE4.1 instruction set being required by RHEL/CentOS 6 CPUs.
Arnold GPU runs on Linux and Windows and requires an NVIDIA GPU of the Turing, Volta, Pascal, or Maxwell architecture. OptixTM denoiser requires an NVidia GPU with CUDATM Compute Capability 5.0 and above.
Key features:
Arnold GPU. Switch between GPU and CPU rendering with ease.
Motion blur. Shadows, volumes, incandescent lighting, reflection, and refraction all interact with 3D motion blur.
Subdivision and displacement. Support for the Catmull-Clark subdivision enables the creation of smooth, curved surfaces.
Subsurface scatter. Tuning point clouds is not necessary with high-performance ray-traced subsurface scattering.
Fur and hair. Simple fur and hair renders can be produced using memory-efficient ray-traced curve primitives.
Volumes. Utilize volumetric rendering to create effects like smoke, clouds, fog, pyroclastic flow, and fire.
Instances. Efficiently use material and transformation overrides to ray trace instances of several scene objects.
Support for the Open Shading Language (OSL). Use Open Shading Language (OSL), a cutting-edge shading language for renderers that use global illumination.
Path Expressions for Light. LPEs give you the ability and freedom to produce arbitrary output variables, which can help you satisfy production needs.
Variable sampling. If you want to shorten render times without sacrificing final image quality, use another image-tuning technique.
Cartoon shader. An advanced toon shader in conjunction with the Contour Filter
See more: Top 5 Best Render Farms For GPU & CPU
2.2 Top best 3D rendering software for professionals
Keyshot
Renders with: CPU, GPU (Nvidia)
Standalone Version OS: Windows, macOS
Integrations: Rhinoceros,…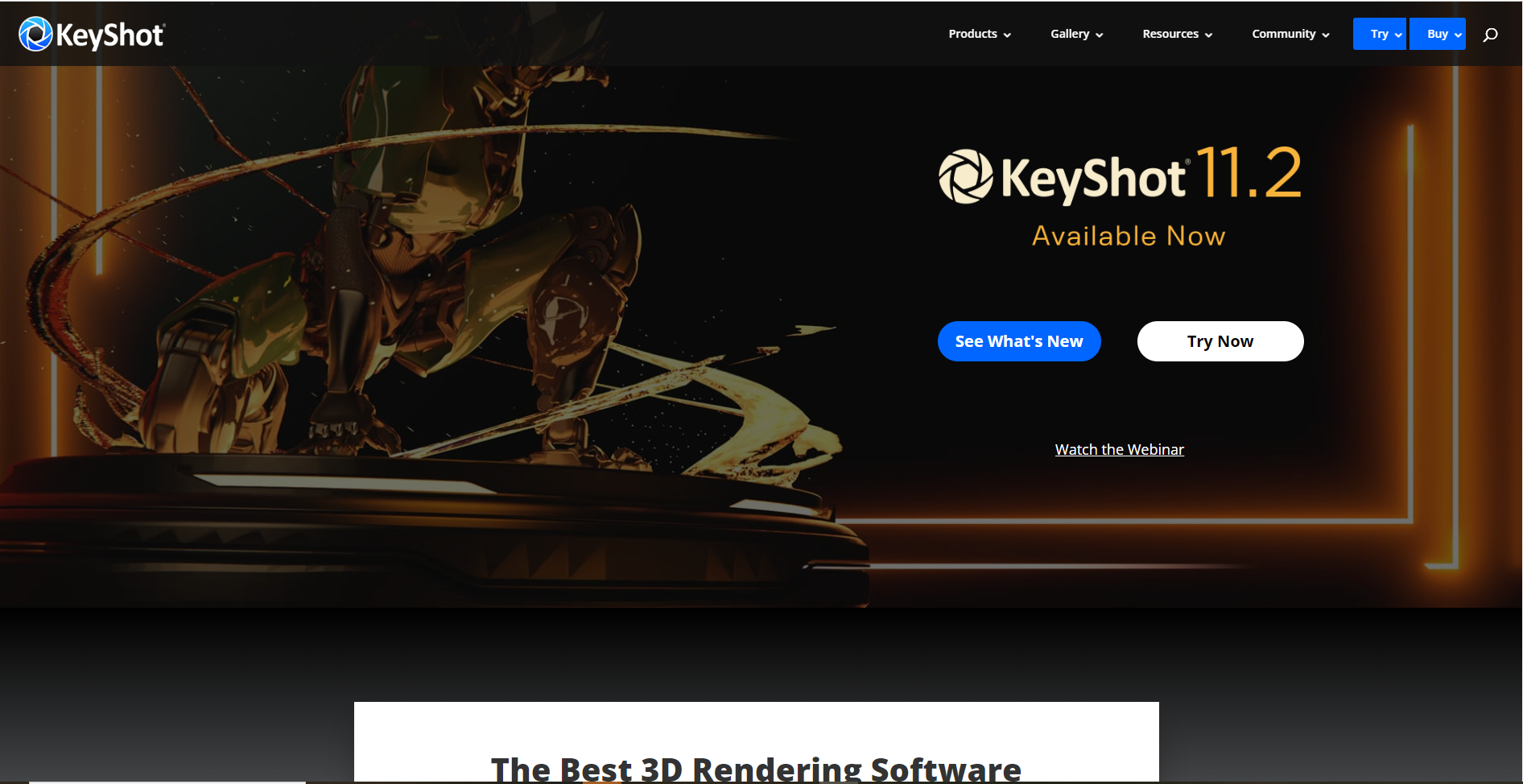 System requirements:
64-bit platform
2GB RAM
2GB Disk Space
Dual-core CPU1, 2
OpenGL 2.0 capable system3
Intel or AMD 64-bit processor with SSE4.1 or higher
1920 x 1080 resolution or higher
Internet connection (to activate product)
Key features
Easy-to-use, conventional interface. KeyShot bases its user interfaces heavily on 2D graphic design conventions, so they will not only make sense to most users but also make your art team feel at home. The interfaces of the majority of complex 3D rendering and design programs are challenging to use.
Animation. With a timeline and camera control that anyone who has used Adobe products before can use with very no training, KeyShot Animation offers conventional techniques for animation and video editing. Create high-quality films with features like DOF animation and motion blur panorama!
Importing. Import common model file types, such as FBX, COLLADA, WaveFront, etc. This means that if you already have assets created in these more difficult programs, you can easily import them.
Simple Viewing. Opening and viewing KeyShot native files and other common model formats are simple with KeyShot Viewer. Model files have never been convenient for casual viewing, which has always been an issue for average users.
Integrations. Tools like KeyShot XR can interact with your current toolchains for visual design, making it simple to share 2D and 3D data without having to save and reopen files. How much simpler this can make things is pretty clear.
Keyshot is an independent software and also integrates well with Rhino, so it is considered Rhino 3d rendering software.
Numerous Tutorials. You can find a tutorial for almost any task in this software, even though it takes far less learning and training than other products in the sector. You have access to a wealth of information that the developer and user community have contributed to help you understand any area of KeyShot you may be confused about.
Powerful. Even on traditionally sluggish tablets and PCs, this software is remarkably quick, rendering and changing geometry with very demanding shaders and a high number of faces/vertices.
Lumion
Standalone Version OS: Windows
Integrations: SketchUp, Autodesk Revit, ArchiCAD, Bentley, Allplan, Vectorworks, Rhinoceros, 3ds Max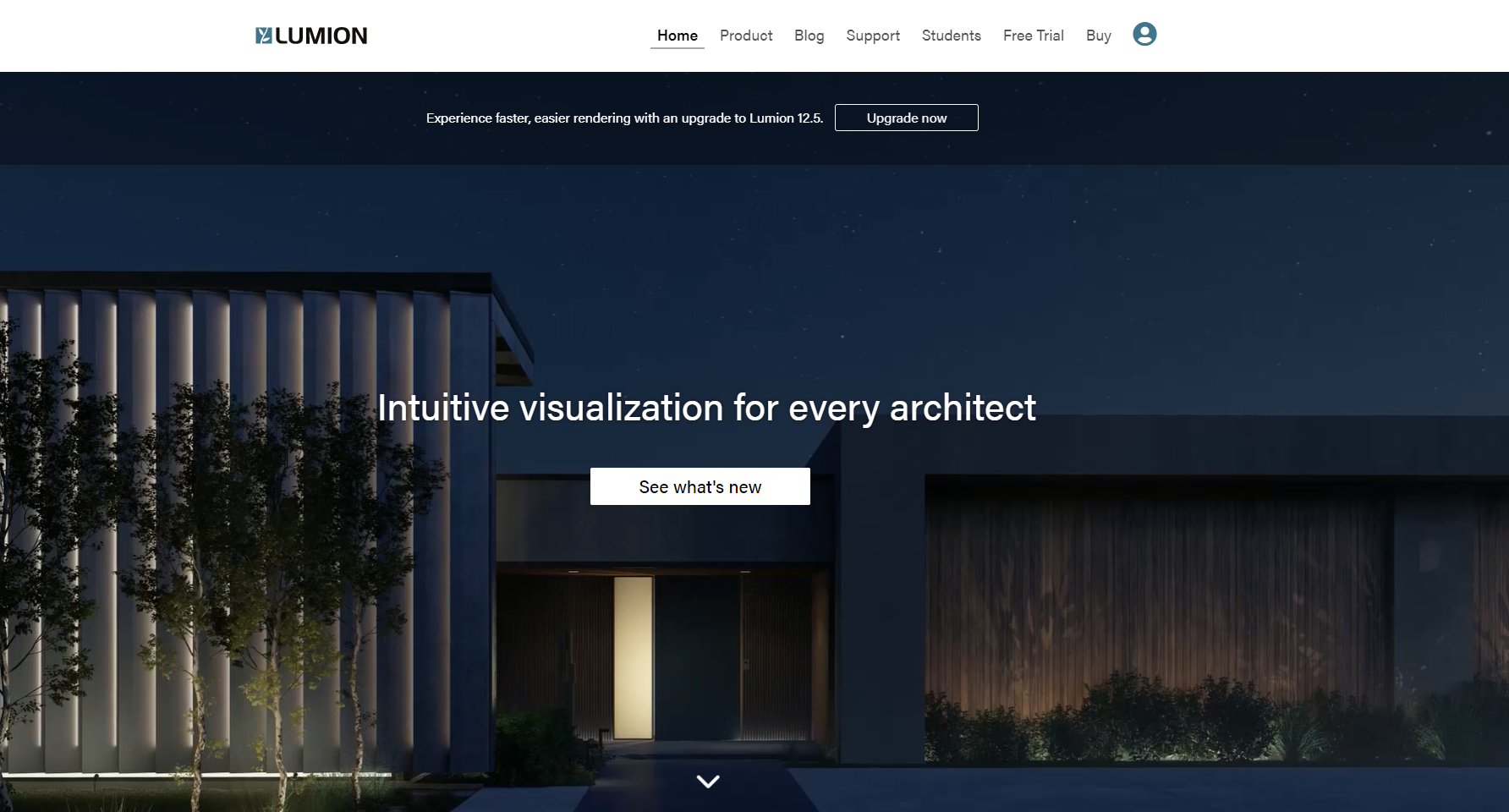 System requirements
Operating system: Windows 10. 8.1 or 7 SP1 Processor
RAM supported by Intel or ADM CPUs with SSE2
8 GB of graphic memory
2 GB of video RAM on an AMD or NVIDIA GPU
System memory (RAM) must be at least 16GB.
Key features
Content collection: Your modeling workflow will move more quickly thanks to the 3D modeling software's extensive content library. It has models of various things, including plants, furniture, accents, animals, and much more. You can construct extremely intricate scenarios using the library's extensive collection of materials, sound effects, and weather presets. The program's website contains a comprehensive list of its resources.
Effects: With this solution, you may add a wide range of effects to your photos and movies. You can add visualizations of the sun, water, and shadow effects, as well as a plethora of aesthetic filters, to your projects to give them the precise visual tone that the task calls for.
Software for rendering: You can output your work in high-definition quality using an efficient rendering engine. You can use shadows, lighting, and other video effects to showcase your creations. With the help of these tools, you can create stunning 360-degree panoramas, virtual tours, and walkthroughs of your various properties.
Integrations: To increase the capability of the system, Lumion is also completely interoperable with several third-party drafting and modeling software programs. Especially, this software has good capabilities for Revit and is known as Revit 3D rendering software.
V-ray
Standalone Version OS: Windows
Integrations: 3ds Max, Blender, SketchUp, Cinema 4D, Maya, Houdini, Katana, Nuke, Revit, Modo, Rhinoceros, Unreal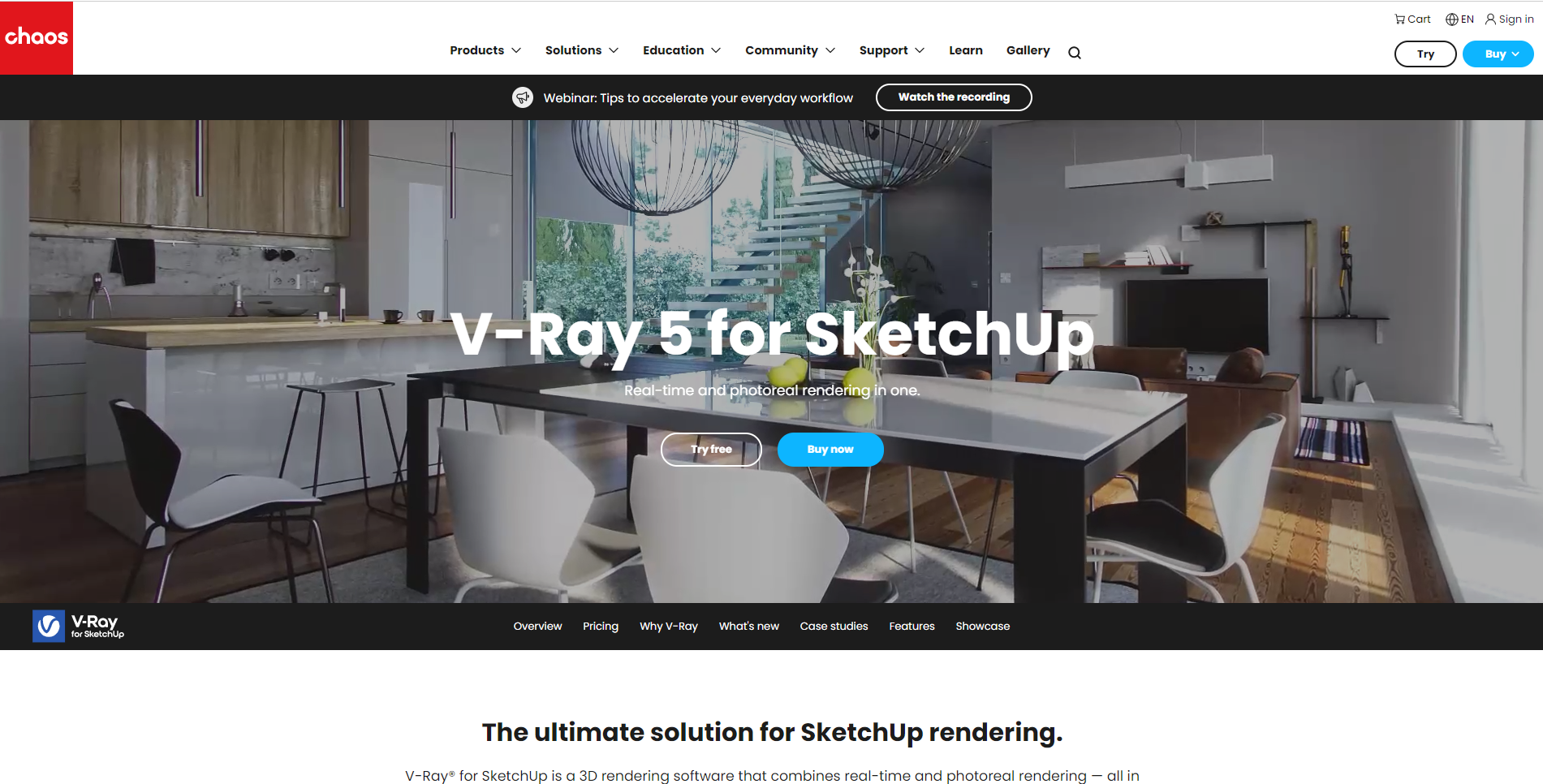 System requirements
Processor: 1st Gen Intel® Core™ or compatible processor with SSE4.2 support (64-bit)
RAM: 4 GB RAM free
Operating System: Windows® 8 and later, Red Hat® Enterprise Linux® 7.2 WS, or CentOS 7, and later, macOS 10.10 and later
Hard Disk Space: 1 GB free
Video Card: V-Ray GPU CUDA or V-Ray GPU RTX:
Key features
Speed. V-ray possesses extremely fast rendering speed, much faster than competitors. That has helped to minimize the time for users
High compatibility. Several artists choose V-ray because it can work perfectly with other 3D software, especially Rhino, 3DS Max, and SketchUp.
Huge collection of resources and materials. V-Ray has access to a large collection of pre-made items.
Photorealistic Rendering. There's a good reason why 3D modeling industries everywhere adopt V-Ray as the industry standard. No other rendering program or plug-in comes close to matching its realistic appearance. The color palette and wonderfully clean textures that V-Ray produces accurately reflect how a model would seem in reality.
Materials, Sheen & Coat. Different materials could be depicted properly because of Vray's sophisticated lighting effects and extensive button set. With V-Ray 5, it's simple to imitate smooth fabric surfaces like velvet, satin, and silk.
RenderMan
Standalone Version OS: Windows, macOS, Linux
Integrations: Blender, Houdini, Katana, Maya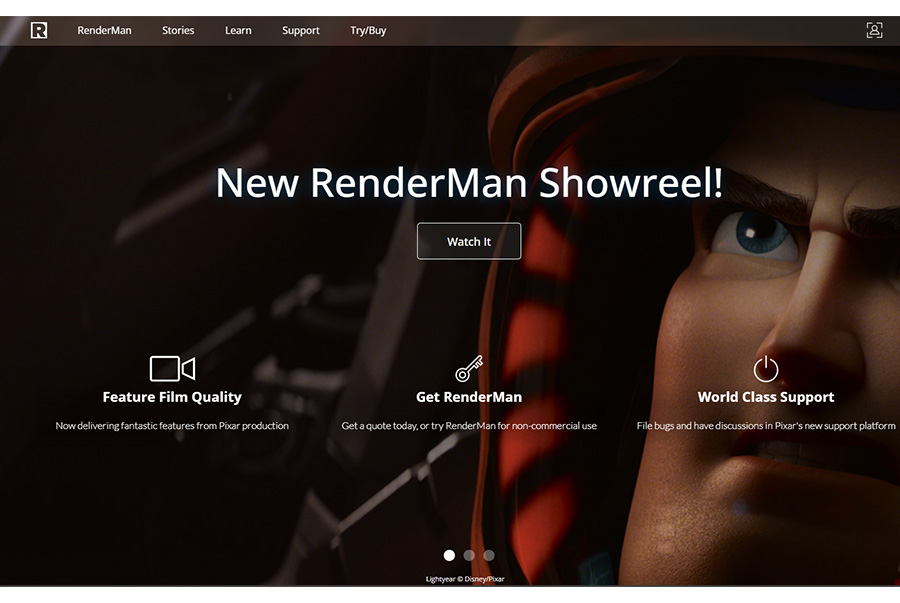 System requirements
CPU: a processor with AVX capabilities.
GPU: Nvidia graphics card of Maxwell architecture or above.
RAM: 4G, XPU needs a minimum of 11GB of VRAM.
Plugins: VFX Reference Platform: CY2019.
Key features:
Motion Blur. There are several controls in RenderMan for quickly and effectively generating motion blur such as Motion Blur, Camera Blur, Shutter Angle, and Shutter Timing,…
Ray Tracing. With the use of ray tracing, you can produce a wide range of effects, from reflections and refractions to elaborate global illumination effects like occlusion and color bleeding.
Shading. RenderMan support Linearize Colors, Maya Shading, Sub-Surface Baking, and Environment Light for users.
Escape
Price: $69.90/$478.80 per m/year
Standalone Version OS: Windows, macOS, Linux
Integrations: ArchiCAD, Revit, Rhinoceros, SketchUp, Vectorworks
System requirements
Operating system: Windows 10 higher
GPU: NVIDIA or AMD dedicated GPU with 4GB VRAM that supports Vulkan 1.1
VRAM: 4 GB
Key features
Real-time rendering. With the help of Enscape's real-time technology, your project is represented as a fully rendered 3D tour that can be accessed at any time of day and navigated from every aspect.
Export Functions. Design teams, clients, and other stakeholders can readily explore your 3D rendered design thanks to Enscape's wide range of sharing and collaboration possibilities.
Asset Library. You may add life and further enhance the realism of your picture with the help of the extensive, easily accessible asset collection.
Redshift
Standalone Version OS: Windows, macOS, Linux
Integrations: 3ds Max, Cinema 4D, Houdini, Maya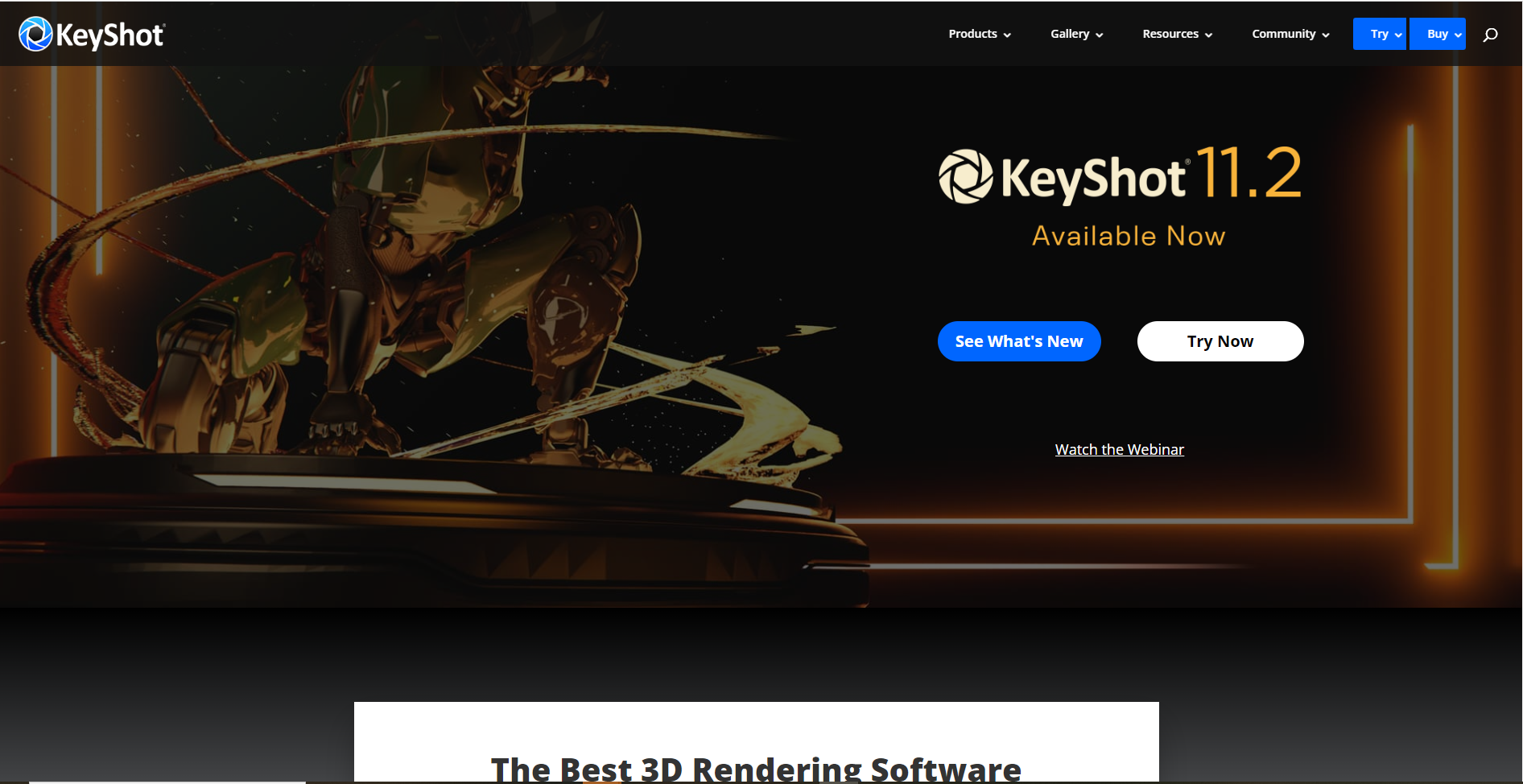 System requirements
8 GB of RAM
Processor with SSE2 support (Pentium 4 or better)
NVIDIA GPU with CUDA computation capabilities 5.0 or above and 8 GB VRAM for Windows and Linux.
Apple M1 16 GB or an AMD "Navi" or "Vega" GPU with at least 8 GB of VRAM. the list of GPUs below
Single GPU
Key features
Faster performance. Redshift uses advanced machine learning algorithms to identify the query execution time and allot the resources as and when they are needed whenever you submit a query to it.
Cost-effective. The most affordable cloud data warehouse option is Amazon Redshift. The approximate cost is one-tenth of standard on-site warehousing. Users just pay for what they use; there are no further fees.
Easy to set up, deploy and manage. The majority of administrative operations in Redshift are automated, including backups and replication, allowing you to concentrate on data and development rather than administration.
Result caching. For queries that you run regularly, Amazon Redshift leverages result caching to provide sub-second response times. The performance of dashboard, visualization, and business intelligence applications that run repeated queries is improved thanks to this capability.
3. Conclusion
You can consult the list of VFX Rendering if you're looking for the best 3D rendering software currently available. For your reference, there are several free plans available and paid software. They include packages appropriate for both beginners and specialists. We have supplied comprehensive hardware information, system specifications, cost, and features. You should consider your budget and needs to find the best fit.
See more: