Top 5 Best Blender Render Farm Comparison (Multi frames)
VFXRendering come back with another comparison, for multiple frames on higher rendering tiers of many Blender render farm.
Project for comparison
Let's take a look at the animation we use for testing today.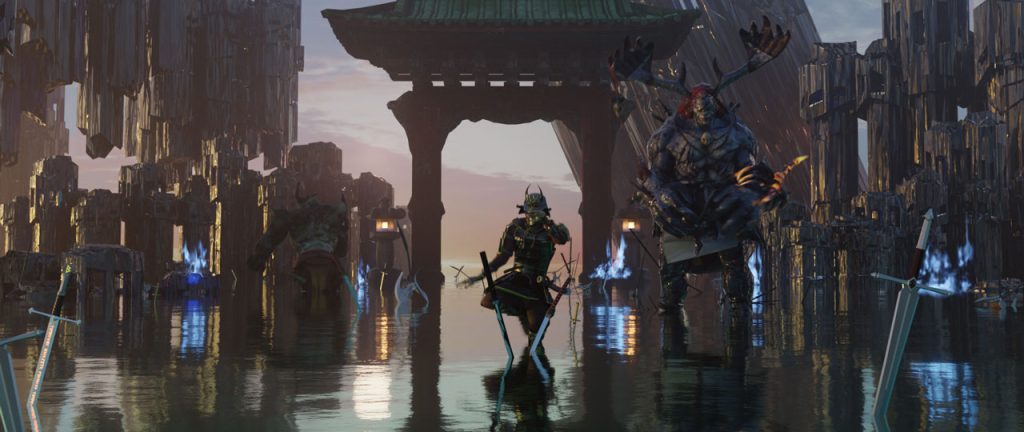 Size: 1920 x 810p
Blender 3.4, Cycles GPU
Max samples: 1024
Noise threshold: 0.01
Budget: $80/a render farm
Best Blender Render Farm Comparison
As usual, we will render on the Top 5 render farms:
Because the test scene has multiple frames, we want to try the high priority of Garage, RANCH and Rebus. On iRender, we will use 3 nodes of the 2 GPU 4090 package. For Fox Renderfarm, we choose GPU 3090 and RAM 128GB.
Well, we think this gonna cost us a lot. So we set the budget as $80 for each farm. Let's see which render farm will complete all frames within the budget, and how fast the render will be.
First, Fox Renderfarm. For Blender rendering, we need to upload and manage projects through web submission. After uploading the project via Ray sync – Fox's transmission tool, we submit the job with settings as follows: Blender 3.4, GPU 3090 node, RAM 128GB.
Analysis > Submit. Now it is rendering. After the 3 pre-test frames are finished, we go full rendering.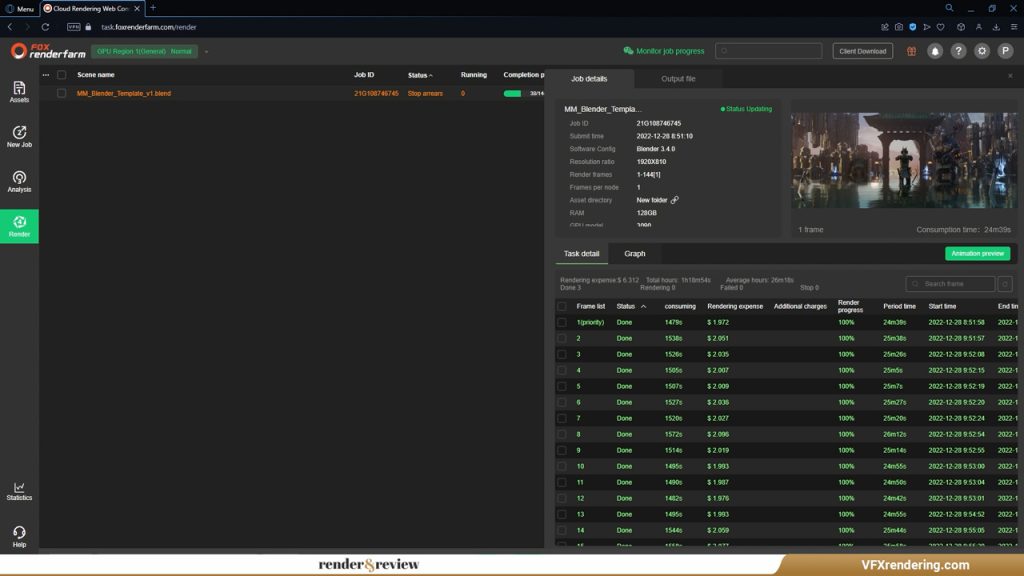 As you can see, each frame takes around 25 minutes to render. But in real time, it takes nearly 2 hours until the render stops because the account runs out of render points. The total of 2 hours does include the render time of 3 pre-test frames. Fox Renderfarm has completed 52 out of 144 frames with $81.793.
Next, we move to GarageFarm. This farm has a special discount for all Blender users.
Inside Blender application, we go to 'renderBeamer' and 'Beam it up'. After uploading the project to the farm successfully, we set the parameters. In this video, we use the High priority of GarageFarm, which allows us to use a maximum of 50 nodes for our running render job. Garage offers the 4x or 8x P100 nodes, and also the 8x K80 nodes.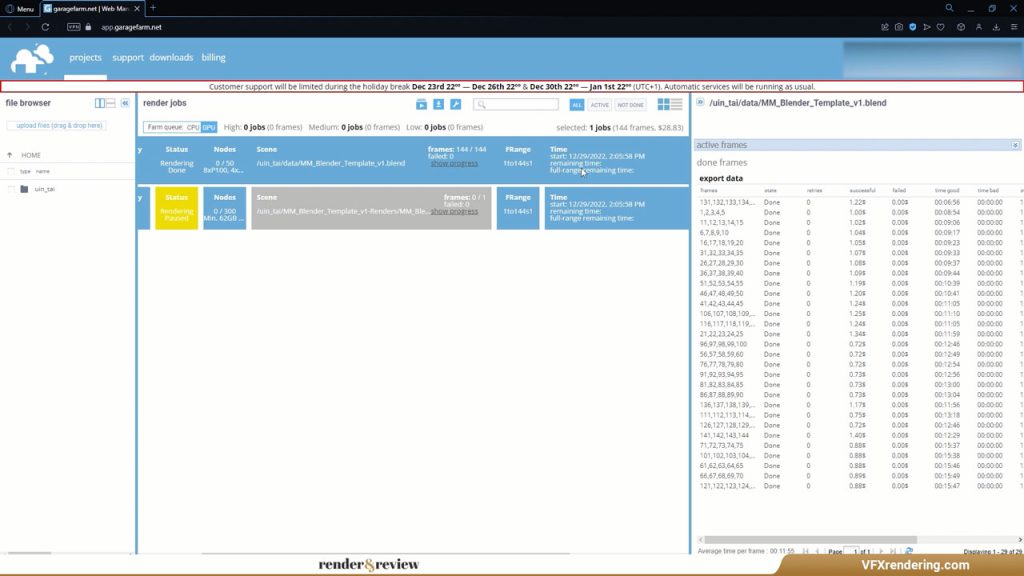 Then Submit. GarageFarm assigns 29 nodes for our job, each node renders 5 frames. In the end, it takes only 17 minutes to complete all frames, and costs us $28.83. We are very impressed by this result.
The third render farm in this video is iRender Farm. First, we will transfer the project through the transferring app called iRender Drive. After that, we rent a server and use it for rendering. iRender provides various GPU servers, in this video, we choose the 2 GPU 4090 package. We installed Blender last time for Blender still image video, so now we can render straight away.
We open 3 instances of the 4090 package and render on them at once. 48 frames on each instance.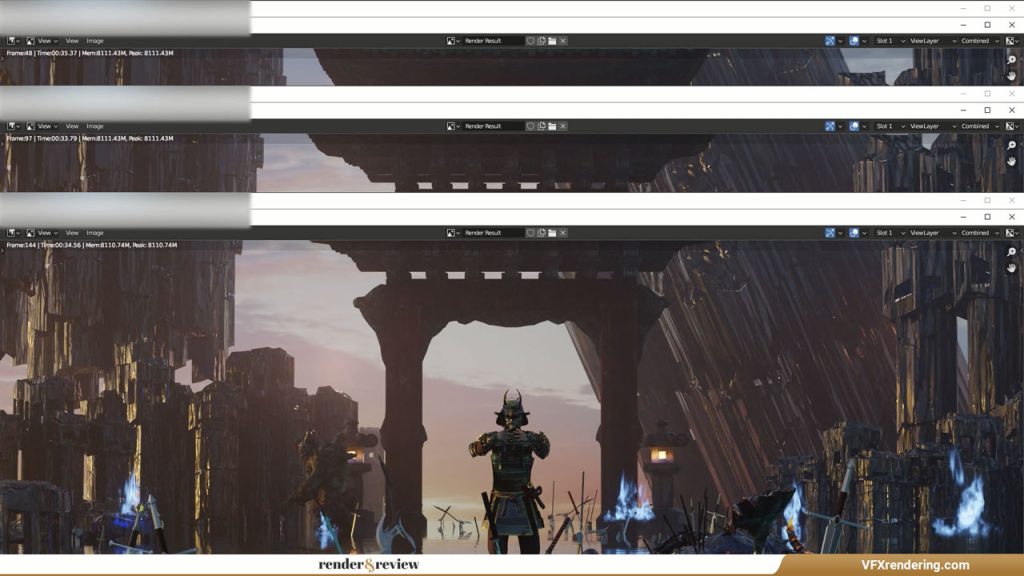 Let's see the result, the render time is about 28 minutes in total. On average, each frame completes in around 34 seconds. For that render time, one instance costs $7, so 3 instances cost $21 in total.
The next render farm is RANCH Computing. After installing the RANCH checker plugin, you can send the scene directly from Blender user interface. The plugin will check if your scene has any errors before sending it to the farm. Then you go to the Web Manager to submit it with a priority. For this Blender multi-frame test, we choose GPU-High. This priority allows us to allocate a maximum of 224 GPU cards for our render job.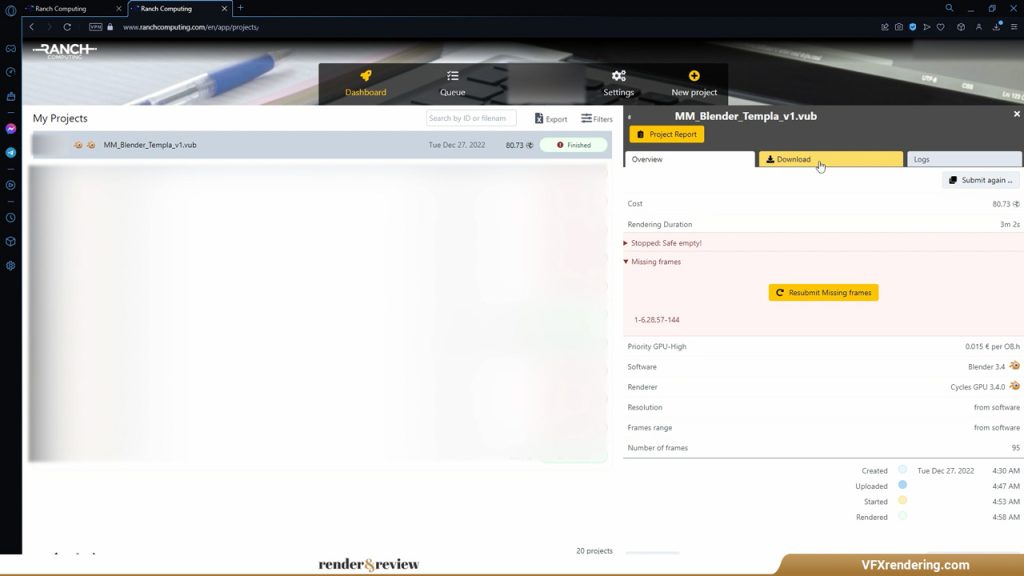 Now, wait for the render. Sadly, it stops halfway as the render points run out. RANCH has completed 37 out of 144 frames with 80.73 render points. But the render time of the High priority is very fast, only 3 minutes 2 seconds for 37 frames.
The last render farm today is RebusFarm. This render farm develops a tool called RebusDrop that directly integrates into the render settings of Blender. The plugin will take care of all assets and render settings for you.
After configuring the settings in the RebusFarm setup window, we upload. Then we go to the ControlCenter to check and manage the progress of upload and rendering. At first, we use the Standard priority, Rebus assigns us 7 nodes for our job. Then we raise the priority to +7. After that Rebus assigns 32 nodes for our job, but the expense goes up crazily. Within 19 minutes, no frames finish yet. 90 out of 144 frames are being rendered. Despite that, the render cost is already 321.50 render points.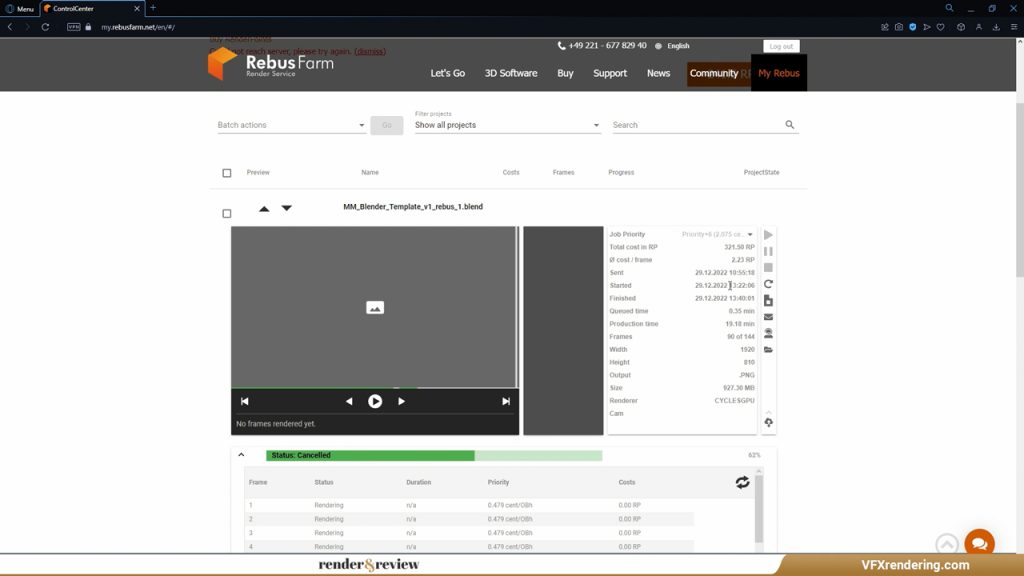 We think we'd better stick with Standard priority.
* We are contacting RebusFarm to request a refund and will update the result for you later. Updated: RebusFarm refunded our render job after we explained the situation.
Blender Render Farm Test – Multi frames
So, we have tested an animation in Blender Cycles GPU on high rendering tiers of 5 render farms. Here are the results:
Fox Renderfarm – 52/144 frames completed – Total Cost: $81.793, Render time: ~2 hours
GarageFarm – 144/144 frames completed – Total Cost: $28.83, Render time: 17 minutes
iRender Farm – 144/144 frames completed – Total Cost: $21, Render time: 28 minutes
RANCH Computing – 37/144 frames completed – Total Cost: €80.73 (~ $86.06), Render time: 3 minutes 2 seconds
RebusFarm – 0/144 frames completed – Total Cost: €321.50 (~ $342.74), Render time: 19 minutes
From the results above, GarageFarm and iRender Farm are the two best render farms for Blender multi frames rendering. They have both fast render time and reasonable expense. RANCH Computing is very fast but the cost is pretty high. RebusFarm with High priority is crazily expensive.
Wrap up
That's all about today. What is your experience with Blender Cycles render farm?
We will come back with another Blender render farm comparison, but for another render engine.
If you want us to compare the best render farms for any software, please comment or send a request to [email protected] Stay tuned for the next post in this series!
See more: