Top 5 Best Octane Render Farm Comparison
Today, VFXRendering will run a small test on various Octane render farm.
Project for comparison
In the last article, we compared Redshift render farms. After Redshift, the next render engine should be Octane Render. Octane is an unbiased GPU render engine with real-time capability. It is popular, and powerful. But unlike Redshift, Octane is not supported widely across render farms. So let's find out whether our five best render farms support Octane or not and how fast they render our project.
For today's test, we use a project consisting of 21 frames in 1920 x 1080 pixel resolution. The file size is around 700MB.
We use Cinema 4D R26, and Octane 2022.1.
Best Octane Render Farm Comparison
As usual, we will test it on 5 render farms:
Fox Renderfarm
GarageFarm
iRender Farm
RANCH Computing
RebusFarm
However, Fox Renderfarm and GarageFarm do not support OctaneRender. So there will be only 3 render farms in this comparison: iRender Farm, RANCH Computing and RebusFarm.
Let's go!
The first render farm is iRender Farm. iRender provides powerful remote desktops, users will access their machines remotely and render on them. First, we will transfer the project through their application called iRender Drive. It is really fast, about 30 seconds of uploading. Next, you need to create an instance to work on. We use 1 node of the 2 GPU 4090 package.
Now fire the instance up. Once you are on the server, render the scenes as if it was your own computer.
As you can see, the project renders in 10 minutes and 51 seconds. The render cost is $2.7.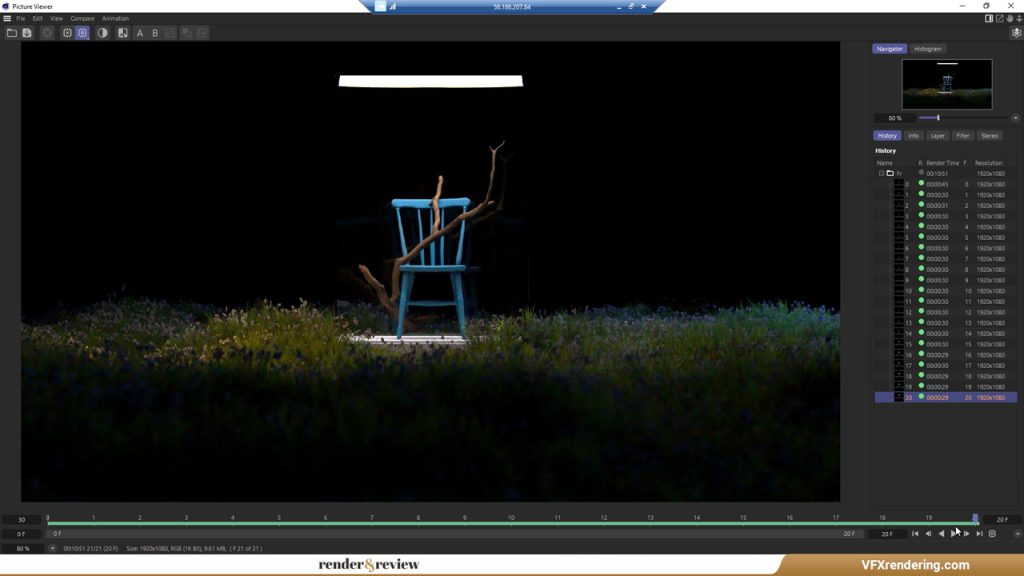 Until now, we only use one instance for rendering at iRender Farm. So we have an idea to divide the project and render a different range of frames on each instance. We will test this idea on 3 instances of the 8 GPU 3090 package.
Each instance renders 7 frames in 2 minutes and 20 seconds. So when we render the frames on each instance at the same time, the render cost in total is about $3.3, while the render time is only about 2 minutes and 20 seconds. Note that the time and expense don't include installation time.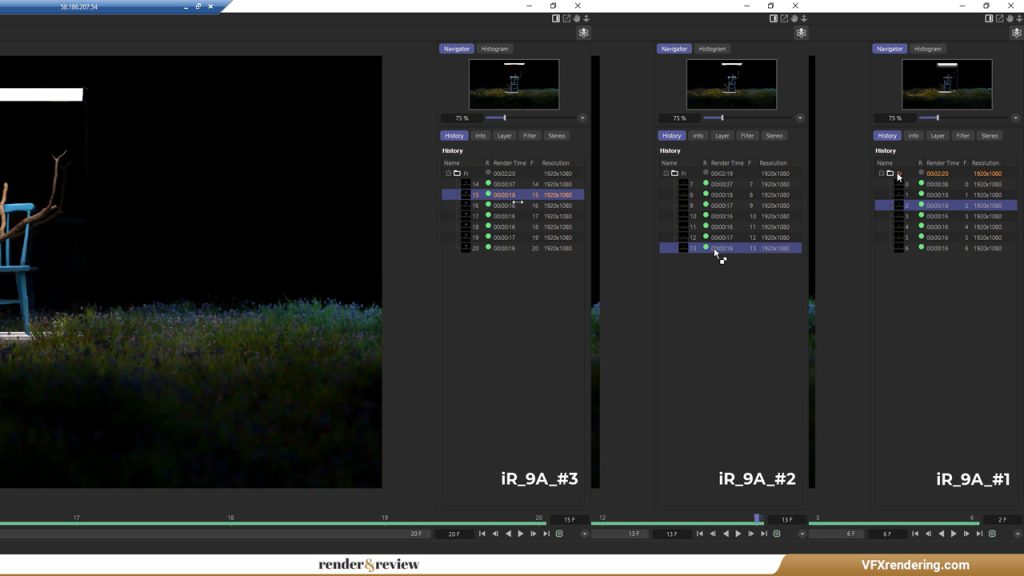 I think the divide-frame thing is very useful for big projects. The render time is cut down many times while the cost is still the same. But it takes time to set up the instance. If you hesitate to do so, 1 node of the 4090 package is already enough.
Next is RANCH Computing. You will need to install their plugin called RANCHecker. It will be integrated into your 3D software package, which is C4D. This plugin gathers all the assets used by your scene, verifies the rendering parameters, and warns you in case of possible issues. After creating the archive, you can upload it directly from the application via RANCHsync. The other way is what we are doing right now. Simply drag and drop your file prepared by the RANCHecker in the white zone to start the upload.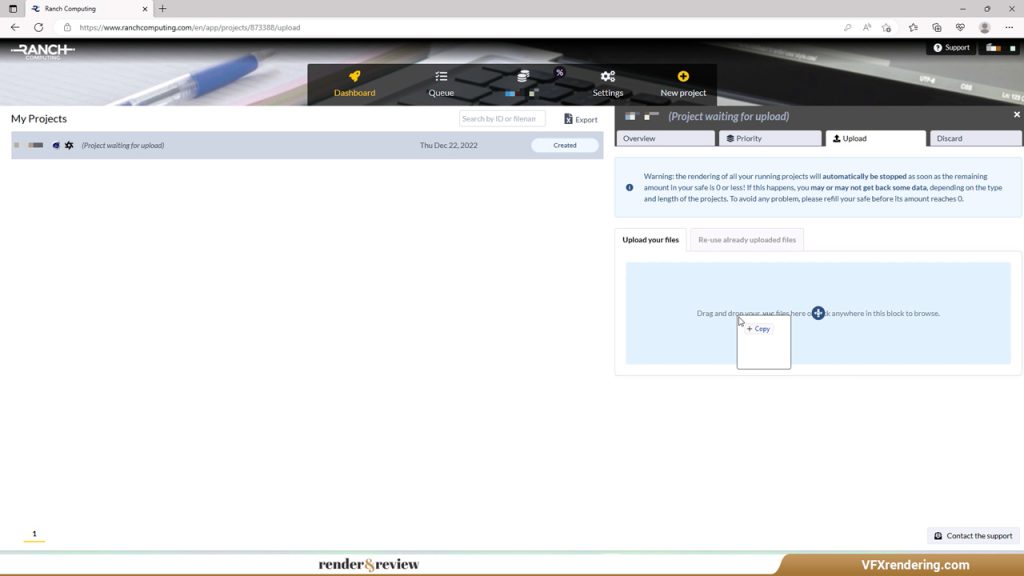 You can check the progress of the upload and rendering in the Web Manager. RANCH upload is fast, more than 2 minutes. Now it's their job to render for you and notify you when it's done.
It takes RANCH 4 minutes and 36 seconds to complete the render. It costs 16.38 render points or €16.38.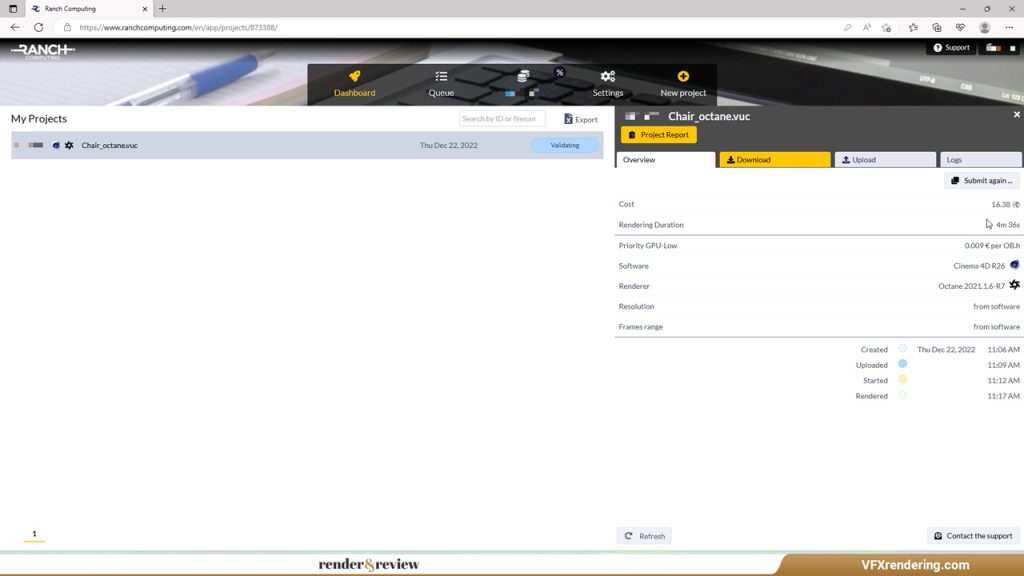 The last render farm is RebusFarm. You will need to install their software called RebusDrop. The plugin will integrate into your Cinema 4D and let you send the project to the farm directly from your application. Go to the RebusFarm setup window, configure the settings, and upload.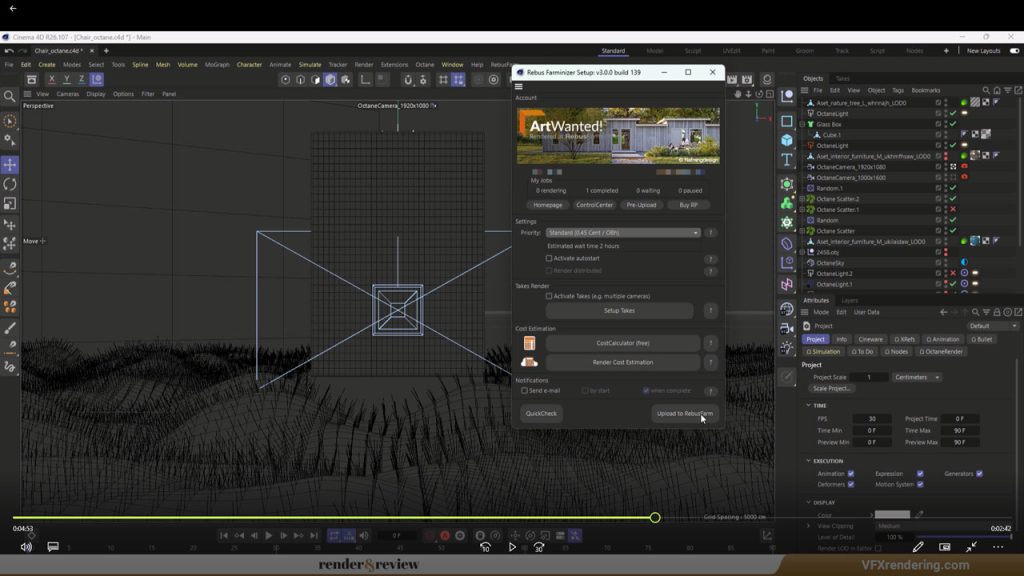 The RebusDrop will upload your render job including all the assets needed for rendering. Then you can check the progress of the upload and rendering in the ControlCenter. Uploading to RebusFarm is kinda slow, more than 1 hour. After uploading successfully, let's render.
For a small number of frames, the render farm assigns a few nodes to render. As you can see, Rebus assigns 7 nodes for our scenes. So, unless you are in the queue for too long, it's unnecessary to choose a higher priority.
Rebus renders our scenes in 12.30 minutes and charges 8.78 render points (€8.78). Unfortunately, the result is not as we expected. It seems that an asset is missing, and the RebusDrop plugin couldn't check this issue before uploading.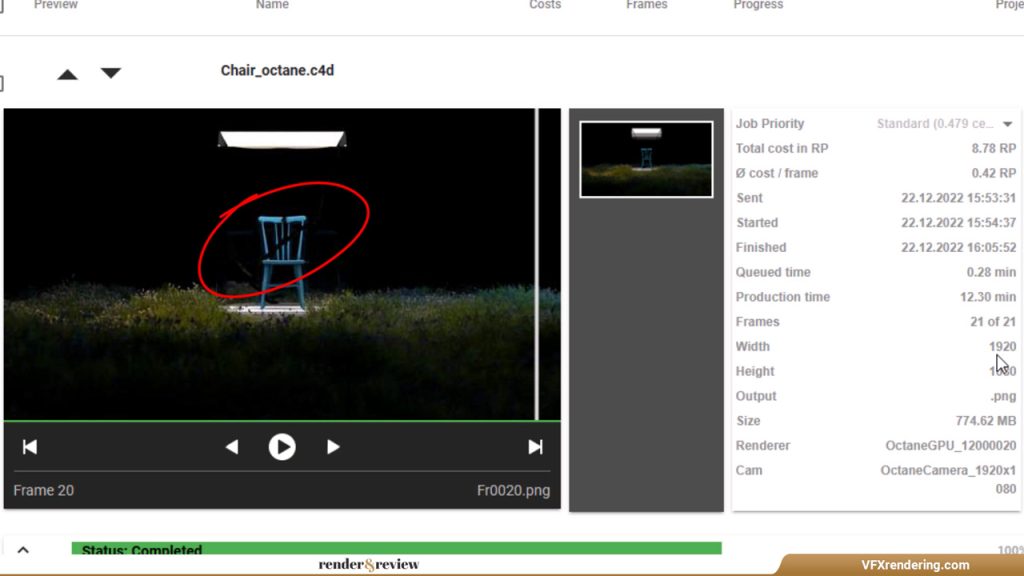 Octane Render Farm Test
So, we have tested the 21-frame project with C4d Octane on 5 render farms. Here are the results.
Fox Renderfarm – Not support Octane
GarageFarm – Not support Octane
iRender Farm – Total Cost: $2.7, Render time: 10m51s
RANCH Computing – Total Cost: €16.38 (~ $17.5), Render time: 4m36s
RebusFarm – Total Cost: €8.78 (~ $9.4), Render time: 12m18s (12.30m)
From the results above, Fox Renderfarm and GarageFarm don't support Octane. Of the three remaining render farms, RANCH Computing is the fastest while iRender Farm is the cheapest render farm. iRender can be faster if you set up more nodes to render. In this comparison, we also test rendering on 3 nodes of the 8 GPU 3090 package at once and the result is about $3.3 for render cost and 2 minutes 20 seconds for render time.
Wrap up
That's all about today. Do you find a C4D Octane render farm you need?
We will come back with another Octane render farm comparison, but for more frames on the higher priority packages of the render farms.
If you want us to compare the best render farms for any software, please comment or send a request to admi[email protected]. Stay tuned for the next post in this series!
See more: