What's new in Cinema 4D 2024?
Discover what's new in Cinema 4D 2024 with VFXRendering in this article.
Cinema 4D is a professional 3D software for editors, filmmakers, motion designers, visual effects artists, and creators of all types. Maxon, its developer, has released Cinema 4D 2024 in September. The latest version of the software brings new features and massive performance improvements. What are the new features of Cinema 4D 2024? Let's discover!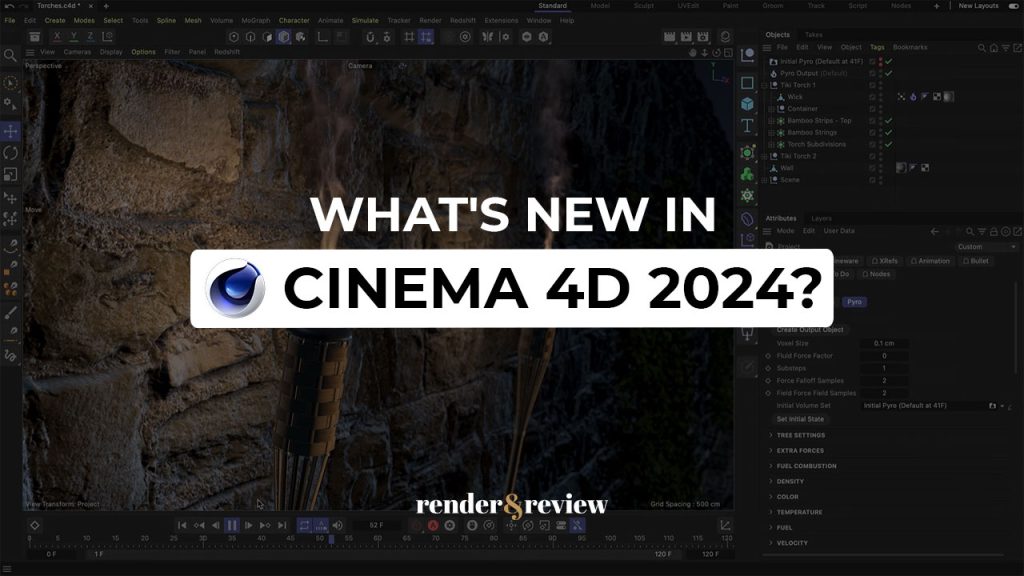 Cinema 4D 2024
Cinema 4D 2024 is a part of the highly anticipated Maxon One Fall 2023 Release. This Fall release includes updates for nearly all Maxon products, including Cinema 4D 2024 along with Redshift 3.5.19, Red Giant 2024, Trapcode 2024, VFX 2024, Magic Bullet 2024, Universe 2024, and Capsules.
What you can expect from this update of Cinema 4D?
Cinema 4D 2024 is better than ever. You can expect massive speed increases in interactive playback, improvements to Rigid Body simulations, and a more "art-directable" Pyro workflow.
What's new in Cinema 4D 2024?
According to Maxon, Cinema 4D 2024 includes enhancements to modeling, powerful improvements to the new unified simulation system, incredible updates to the node editor, much better Redshift integration, and many more.
Let's cover the new features, and improvements and break them down.
Redshift as the default renderer
Starting in Cinema 4D 2024, Redshift becomes the default render engine of Cinema 4D. The integration is even better. You can now choose to create Redshift materials when importing popular exchange formats such as OBJ, FBX, GLTF, and USD. The simplified versions of Redshift materials will be exported via the same formats as well as Cineware for Unreal Engine. Therefore, designing content in Cinema 4D and Redshift has become easier for artists.
Speed improvements
When working in Cinema 4D 2024, you will realize instantly it is a lot faster. It is more than twice as fast as previous versions (it can be up to 100 times faster). The speed boost is thanks to the power of Maxon's brand-new core, which optimizes speed and performance.
Cinema 4D 2024 offers amazing performance gains across all areas while maintaining the same easy workflows you are used to. You can also experience real-time responsiveness in many scenarios with the 2 times faster playback performance compared to previous versions of Cinema 4D.
Rigid Body Simulations
Maxon has added the Rigid Body to the Unified Simulation System in Cinema 4D 2024. This means you can now simulate rigid bodies together with all simulation types in the scene, including soft bodies, cloth, ropes, or even Pyro.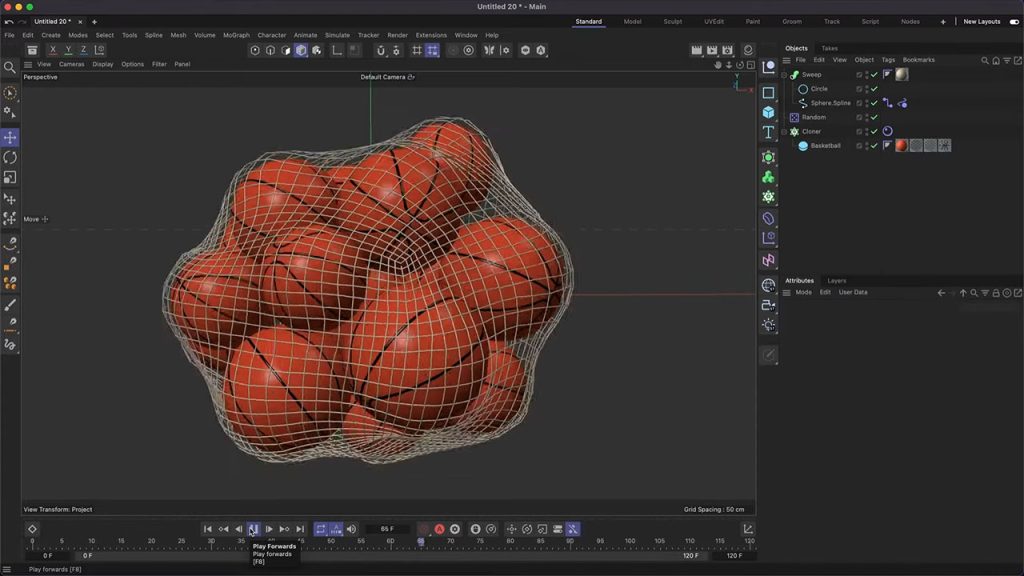 When simulating complex meshes, you can leverage GPU processing and shape simplification to get remarkable performance.
Pyro – What's new in Cinema 4D 2024?
Pyro has been very popular since its initial release. It now provides more exact controls for artists to art direct their simulation and guarantee it matches their concept in Cinema 4D 2024.
You can decide how your Pyro simulation begins by setting the initial state. You can also emit Pyro directly from standard particle emitters, thinking particle geometries and matrix cloners, then make use of color, scale, and other attributes. Artists can use Pyro to create film scenes with fire, smoke trails, and explosions, as well as to envision gorgeous fireworks in the night sky.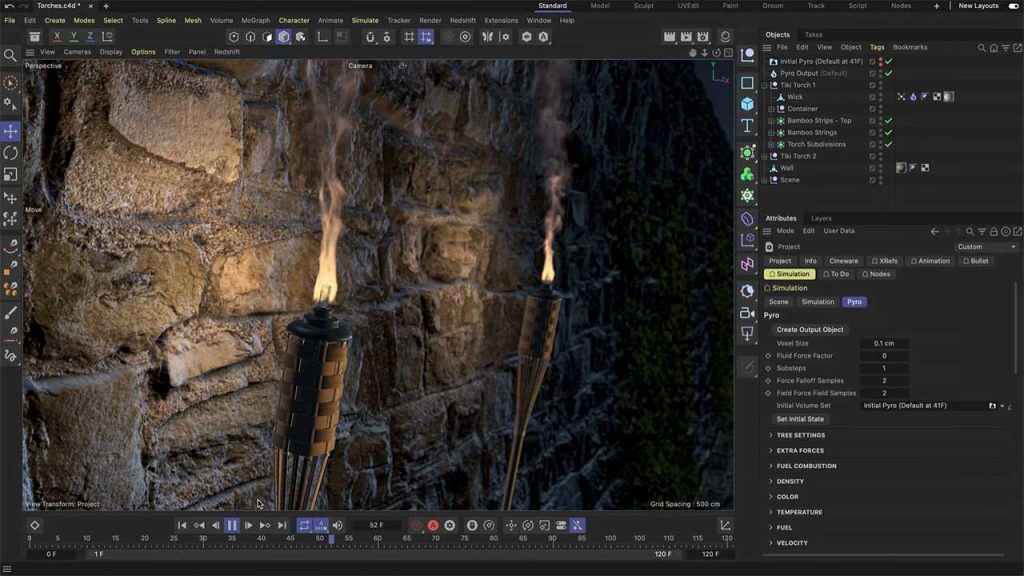 Moreover, you can easily art-direct Pyro at a low resolution and then render impressively highly detailed simulations with the help of UpRes. UpRes is extremely helpful when you need quick turnarounds during the art direction and concept stage of the project but full, highest quality for final output.
In addition, with the new cache list, you can directly and easily compare different versions of your cached volumes.
Updated Phong Tag, Normal Editing, and VAMP Manager
Cinema 4D 2024 adds new vertex normal controls to provide artists a complete control over modifying vertex and polygon normals to remove shading artifacts.
The new style option in Phong Tag allows artists to eliminate shading artifacts. The new Normal Editing tool allows users complete control over the vertex and polygon normals.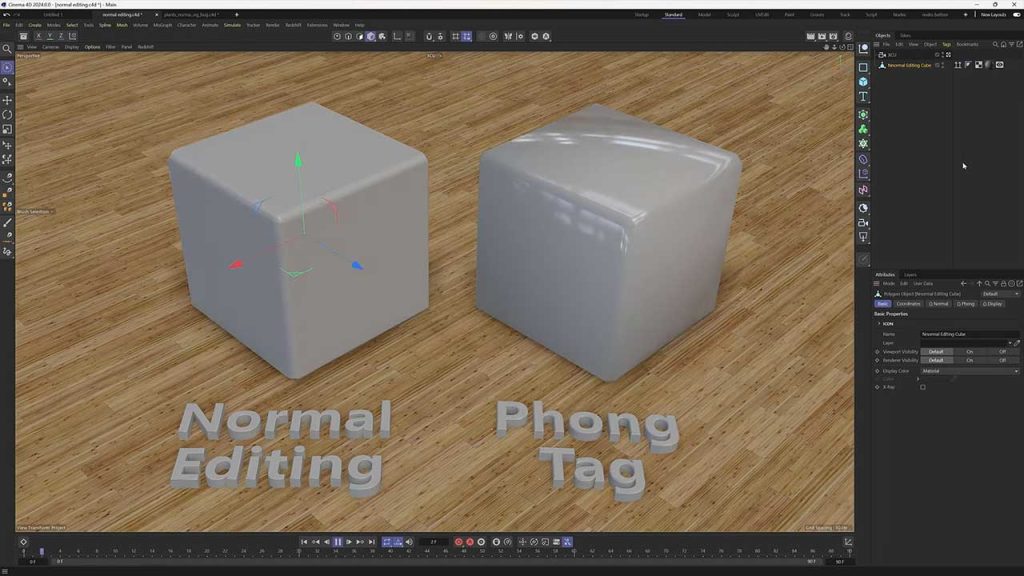 Also, Maxon has improved the VAMP Manager, allowing it to transfer UV and weight normal data from one mesh to another while preserving the edge breaks.
New modeling tools
Maxon has enhanced C4D's modeling toolset with the 2024 release. The remarking features are the new modeling tools Pattern Selection and Projection Deformer.
The new Select Pattern tool allows you to repeat polygon selections across the surface of your mesh. For better animations, you can now use the new Projection Deformer, which quickly moves points from one object to another in any direction.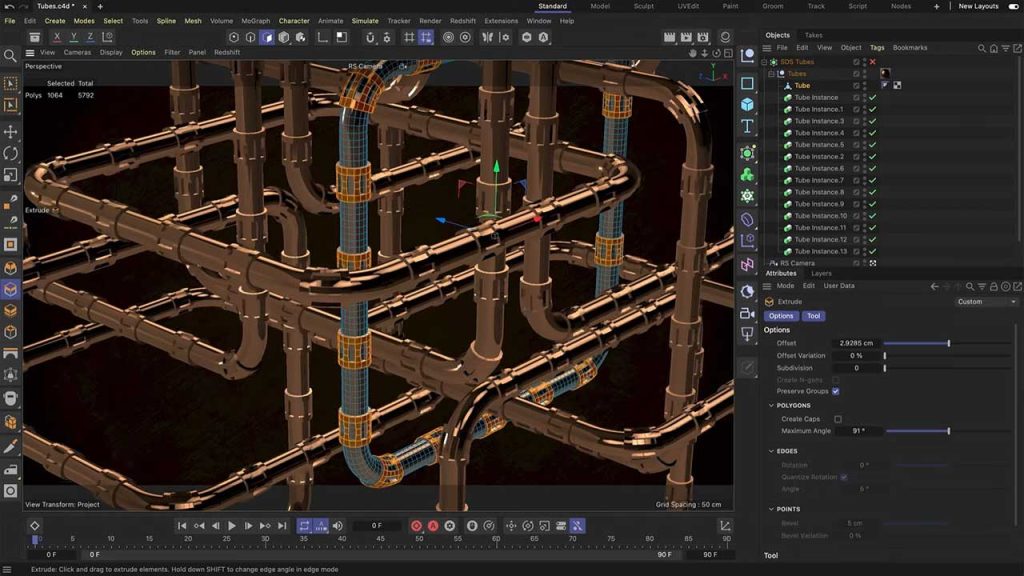 The enhancements in the modeling toolset enable quick control and make handling complex tasks a breeze.
Also, Maxon has improved the Modeling Brush and Magnet Tool in Cinema 4D 2024. A new Surface Smear mode is added to retain the surface flow. There is a new Preserve Boundary setting to preserve both mesh and selection boundaries when you use the tool.
Node editor updates
Cinema 4D 2024 introduces a new Node editor with scaffolds and notes. It makes your node setups more readable. Scaffolds can be used to visually group nodes and move them as a group. Nodes can be added and removed from a scaffold by dragging them in and out. The new notes make it simple for artists to add comments in a variety of colors, sizes, and styles.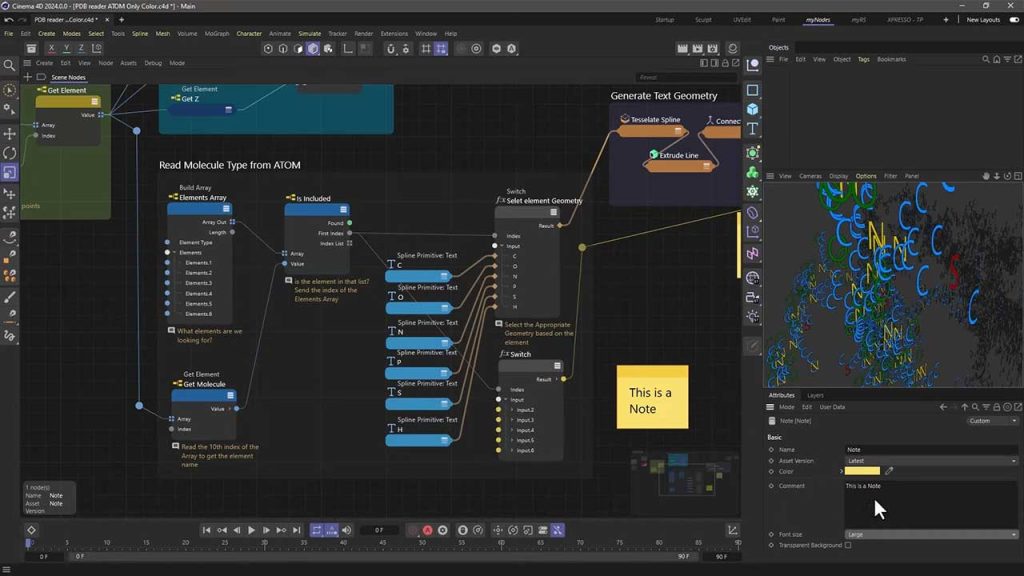 In short, new nodes have been introduced to allow you more control over your assets.
In addition, a new option in the viewport allows you to see polygon and point indices in both object and component modes.
Conclusion – What's new in Cinema 4D 2024?
To sum up, the latest update Cinema 4D 2024 provides unrivaled performance and speed for your interactive projects, including the most demanding creative scenes.
What's new in Cinema 4D 2024 exactly?
Its all-new core provides a 2 times speed boost in all areas of Cinema 4D. Simulations of rigid bodies now interact with all available forces, pyro, cloth, and soft bodies. Pyro gives artists precise controls to art direct their simulation and guarantee it meets their concept. Standard particle emitters, thinking particle geometries and matrix cloners can now emit Pyro after adding the Pyro tag. Furthermore, the new Vertex Normal tools provide unprecedented precision for flawless surfaces. New selection and projection modeling features will help you optimize your workflows and save time and energy. Finally, with the new annotation and scaffolding tools, you can easily manage your nodes while adopting a clean, organized workspace that allows you to find everything you need right away.
See more: