10 best 3D animation software you need to know
3D animation programs are becoming increasingly popular and are being used by animators and designers in a variety of fields. There is a lot of animation software on the market today. Have you discovered the most appropriate program for your project? In this article, VFX Rendering will show you 10 top 3D animation software you need to know.
What is 3D animation software?
A 3D Animation software program assists you in creating three-dimensional models, backgrounds, storyboards, and applying effects to them. Characters for advertisements, movies, and television can be animated using 3D animation software. It also allows you to convert pictures into 3D models in real-time.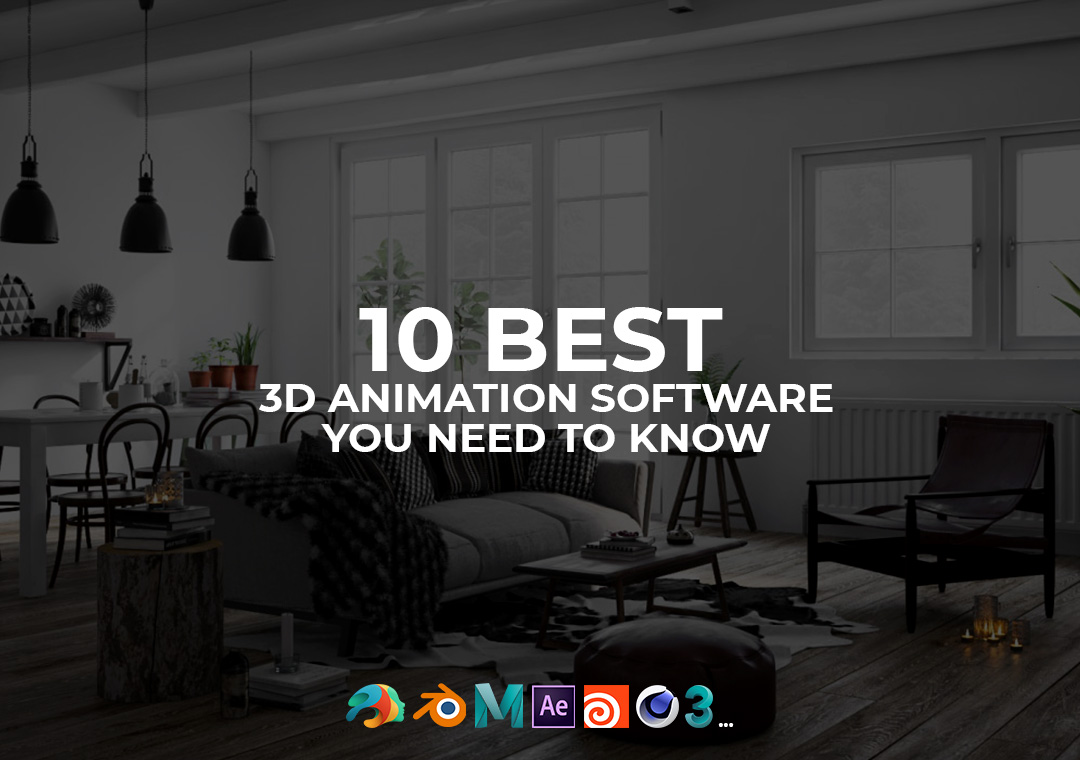 10 best 3D animation software
Blender
OS: Windows, macOS, Linux
Price: Free
Key Features:
To make 3D surfaces and paints, use textured brushes and masking.
Add-ons and customized animation tools with Python scripting capability can be downloaded and used.
For smoother 3D animations, it supports both automatic and manual tracking.
Pros:
Support for rendering with GPU and CPU power
VR rendering and robust camera restoration
Cons:
Not updated and fix issues regularly
The learning curve is steep.
Blender is a professional open-source 3D animation and modeling software that is available for free. Blender is the best 3D animation software free download and use. From animated feature films to visual effects, art, interactive applications, video games, and architectural representations are the fields Blender applies. A few of the features available in this free 3D animation program include 3D modeling, UV unwrapping, texturing, raster graphics editing, rigging, and skinning, fluid and smoke simulation, particle simulation, soft body simulation, sculpting, rendering, video editing, and compositing.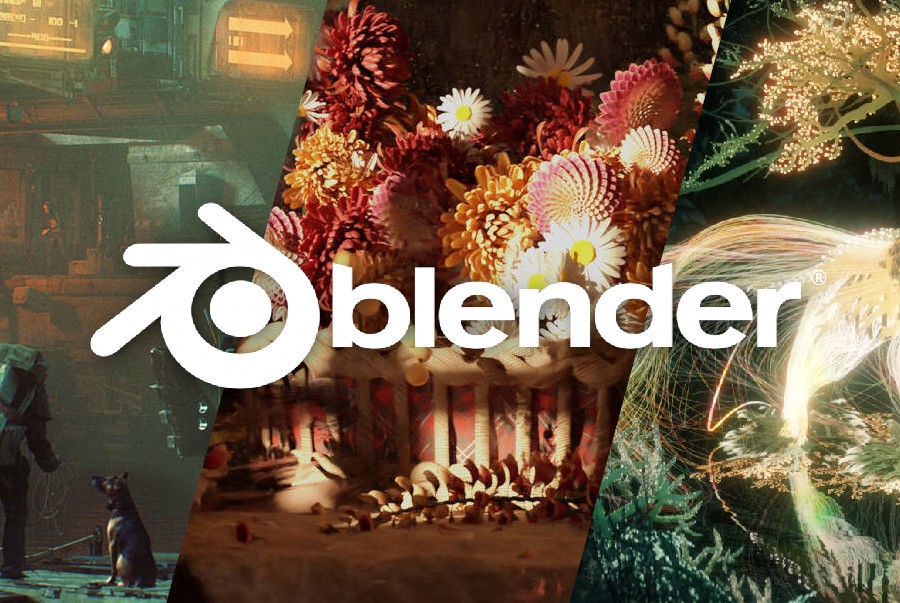 3Ds Max
OS: Windows, macOS
Price: $1,700/year
Key features:
Optimize the geometry of high-resolution models automatically to provide a clean, quad-based mesh geometry.
Texture baking has never been easier, more intuitive, or more scriptable.
Extrude faces on 3D objects flexibly and intuitively. Automatically rebuild and stitch adjacent faces together.
With any supported renderer, create or use pre-existing procedural OSL maps.
Reduce design iteration by displaying PBR (physically based rendering) materials and camera effects directly in render-quality viewport previews.
Pro:
Make high-resolution objects and scenes.
Features are flexible and intuitive
Cons:
The user interface is difficult.
Autodesk 3ds Max is web-based graphic design software that specializes in 3-D rendering and animation. It is part of the Autodesk construction, engineering, and architecture software suite. It's also used in in-game creation, animation for film and television, and product prototyping.
The program can display high-definition details, giving virtual items like characters, scenes, and infrastructure a sense of realism. You may also add an extra dimension to your work by configuring realistic camera views and effects.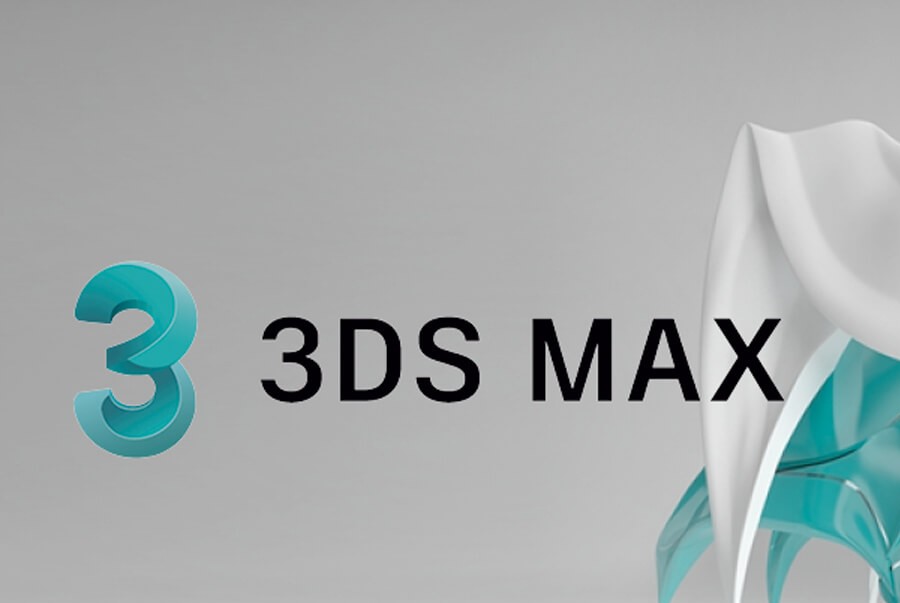 Cinema 4D
OS: Windows, macOS
Price: $737/year
Key features:
Many tools are available to make detailed models.
Flexible toolset for more realistic and composite rendering control
Many third-party programs are integrated.
Pros:
Few issues because publishers always release beta versions before officially providing themư
Cons:
Workflow Problems
Expensive
Cinema 4D may be the answer for 3D artists searching for a comprehensive set of tools. This program is a 3D modeling, painting, motion graphics, and animation system developed by MAXON computer in Germany. Cinema 4D can do features such as texturing, rendering, lighting, and polygonal/procedural modeling. Its fast-paced and modern 3D production will appeal to both beginners and professionals. It makes it simple to produce illustrations, 3D motion graphics, video game graphics, and product and architectural visualizations.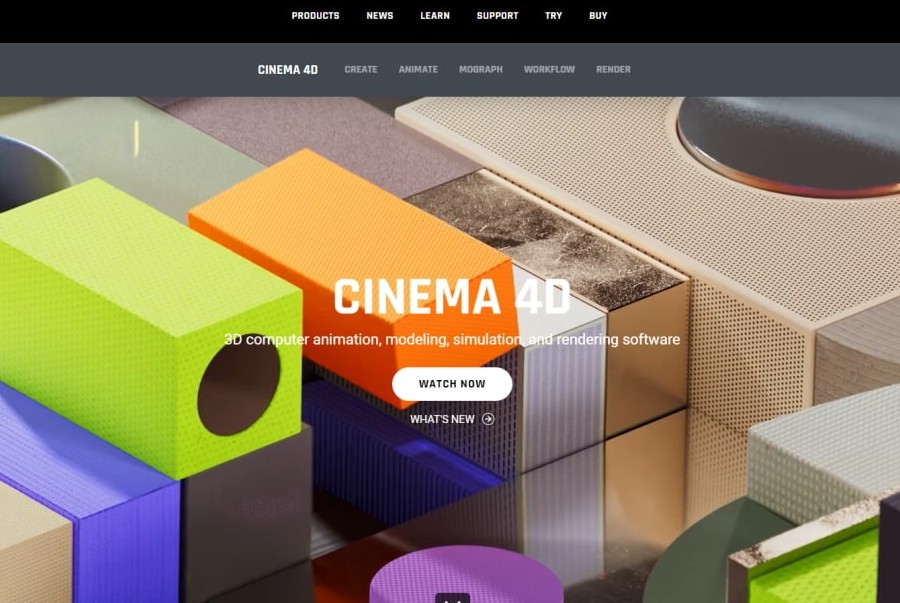 Maya
Os: Windows, macOS, Linux
Price: Free version, Premium from $215/month
Key feature:
A large number of procedural effects and animation tools are available.
It's possible to make hyper-realistic animations with it.
Liquid simulation and other simulations using an advanced physics engine
Pros:
One of the most effective animator tools available.
Industry specialists in the film and gaming industries rely on us.
A nearly infinite number of features and functions
Cons:
The learning curve is steep.
Maya is a 3D modeling program used to create realistic characters and blockbuster-worthy effects. It uses compelling animation methods to bring believable characters to life. Furthermore, this software uses intuitive modeling tools to create 3D objects and scenes. Maya also provides realistic effects, like explosions and textile simulations.
Because of its extremely customizable user interface, Maya is a favorite among 3D animators. If you want to create something truly professional, Autodesk Maya is a terrific option.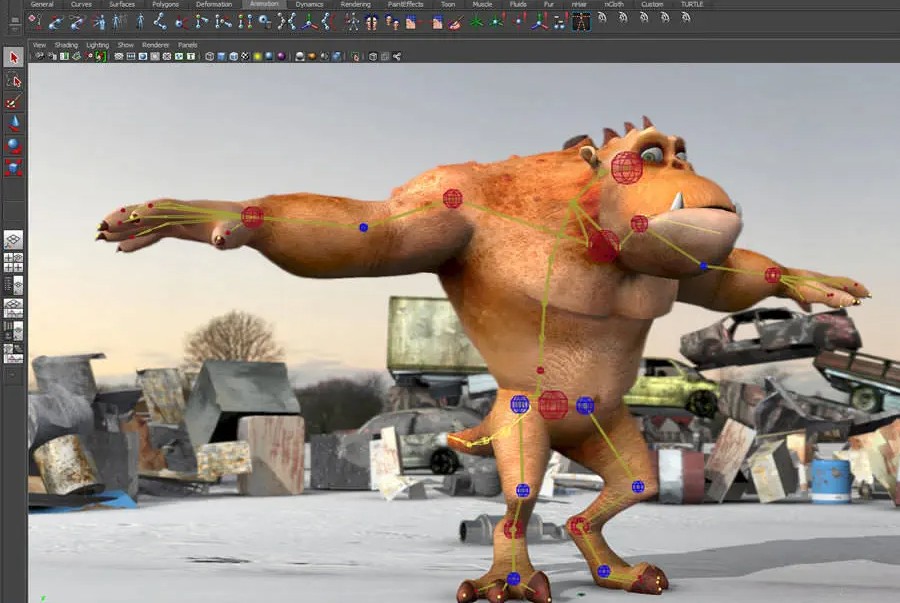 Houdini
OS: Windows, macOS, Linux
Price: Free (with limitations)
Features:
Node-based Workflow: The ability to preserve nodes and transfer information down the chain in the form of attributes.
Specialized in VFX & Simulation
Shots & Multiple Iterations
Pros:
The UI is node-based, similar to Nuke, and is straightforward to learn for any new user.
Houdini by SideFX is a strong procedural 3D software tool.
Within the VFX industry, it's becoming increasingly popular.
Cons
It takes some time to get acclimated to the new looping mechanism.
Although the learning curve remains steep, there are now more lessons available.
The ongoing transition from local variables to characteristics can be perplexing.
Houdini is a vector graphics software that allows firms in the film, game, and motion graphics industries. It's often used to produce many iterations, share workflows, make simulations and create 3D models on a centralized platform. Designers can use the procedural modeling tool to keep track of construction progress and develop cityscapes, environments, and other surface topological models.
Daz 3D
OS: Windows
Price: Free
Feature:
Figure Platform with Customizability
Content library smart and modular
Render images are quick, realistic, and stunning
Powerful tools for editing and visualizing transitions in real-time
Pros:
The user interface is highly customizable.
It is completely free to use
Models and resources for learning
Cons:
Daz Studio is unable to build animation models.
Daz 3D was created from the ground up with one goal in mind: to assist storytellers in creating visual storytelling. Daz 3D is best free 3D animation software for beginners. The 3D animation tool makes animating 3D cartoons as simple as puppeteering using aniMate2, a GoFigure 3D tool.
This utility excels in terms of ease of use and animation tool uniqueness. Daz is a good choice for beginners seeking a simple 3D animation program. By following the thorough tutorials on the software's wiki site, you should be able to produce animations with realistic simulations in no time.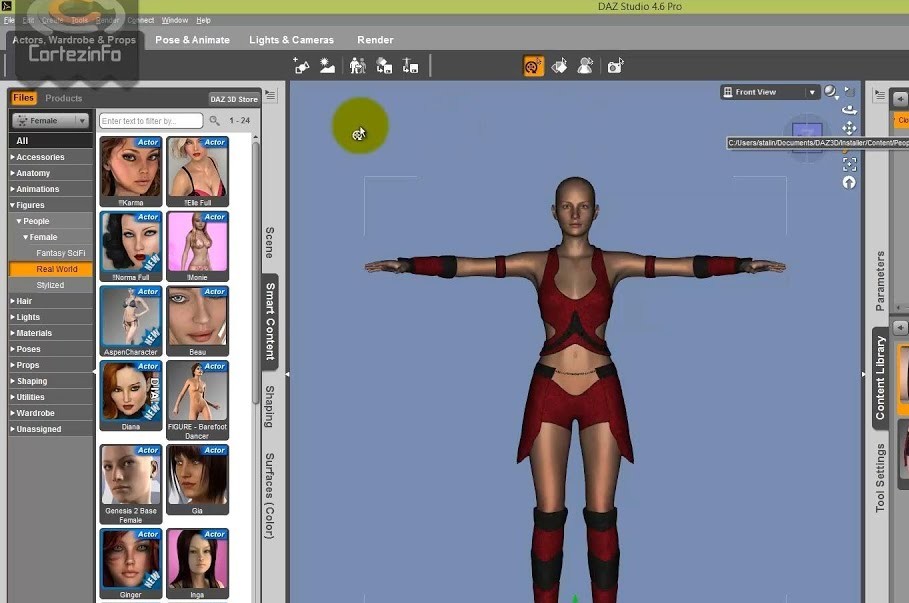 Adobe After Effects
OS: Windows, Mac
Price: Free version, Premium from $20.99/month
Key features:
Possible to make complicated animated intros, transitions, and 3D models.
Full integration with other Adobe products
Use for 2D and 3D animations, and hyper-realistic material.
Adobe is known for creating a wide range of apps and editing tools for a wide range of purposes. This software is one of the best options if you appreciate Adobe software and want to create animations and visual effects. It is one of the most advanced tools for making unique animations, and it runs on both Windows and Mac.
Everything from movie intros to personalized title screens and animated logos can be created with Adobe After Effects. Filmmakers, game developers, and other creative professionals, as well as amateur users interested in the art of animation, can use it. It also works nicely with other Adobe products, allowing you to get even more out of Adobe After Effects if you're already a large Adobe user.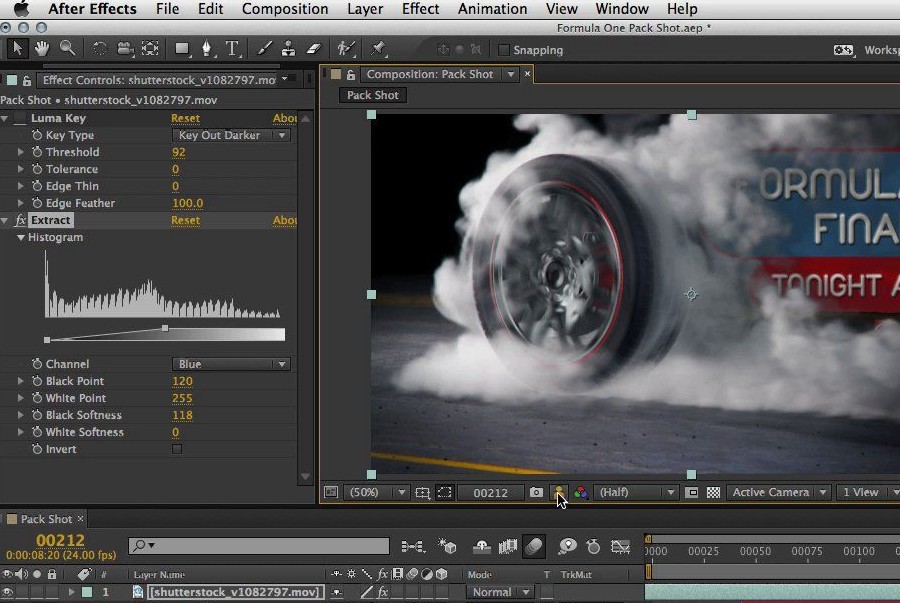 MakeHuman
OS: Linux, Mac OS X, Windows
Price: Free
Key features:
Create human characters with this easy-to-use application.
Access to a huge database of morphing targets is simple and quick.
MakeHuman models can be imported into Blender for further editing.
To process inputs, fuzzy logic rules are used.
Pros:
Simple tools for animating and creating realistic static poses
Cons:
Customization choices are limited.
The development of MakeHuman began with the building of a blender module. The 3D animation software was eventually made open-source and offered as a standalone program. MakeHuman is a program that allows you to make 3D human characters. The program lets you model and animates your creations before exporting them in a variety of formats. Multiple tabs for different types of character data, such as physical and face traits, are included in the software.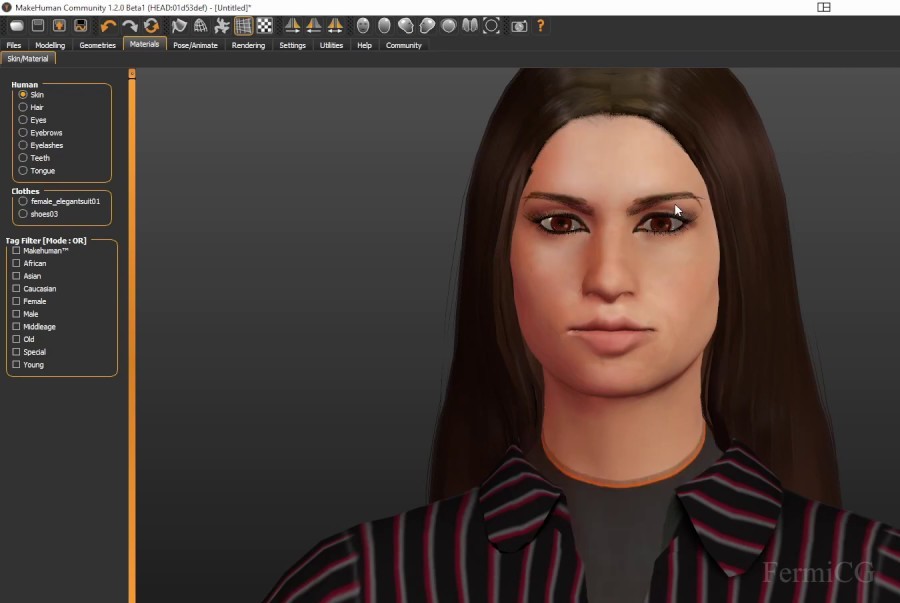 Animaker
OS: Online
Price: Free version, Premium from $10/month
Key features:
User interface with drag-and-drop functionality
On any major operating system, it runs online in your browser.
There are a plethora of fonts, backgrounds, photos, movies, and other components to choose from.
Pros:
You can use a large library of objects and information in your animations.
The user interface is quite user-friendly for beginners.
The advanced character creator provides nearly unlimited options.
Cons:
Rather than realistic 3D models, they primarily specialize in 2D animations.
Animaker is a comprehensive 3D animation and video creation program with something for everyone, from novices to seasoned pros who wish to fine-tune their latest masterpieces. It has a drag-and-drop system, a large number of pre-made templates for your videos, thousands of pre-built elements, innumerable typefaces, a large number of backgrounds, and millions of pieces of stock content.
Animaker is a free 3D animation software that is trusted by companies like Unilever, Amazon, and HP. Many of its features, such as the character builder, are better suited to 2D animation. So, if you're looking for absolutely realistic 3D models, this isn't the tool for you. however, if you're looking for 2D videos, such as brand introductions and lessons, Animaker is a good choice.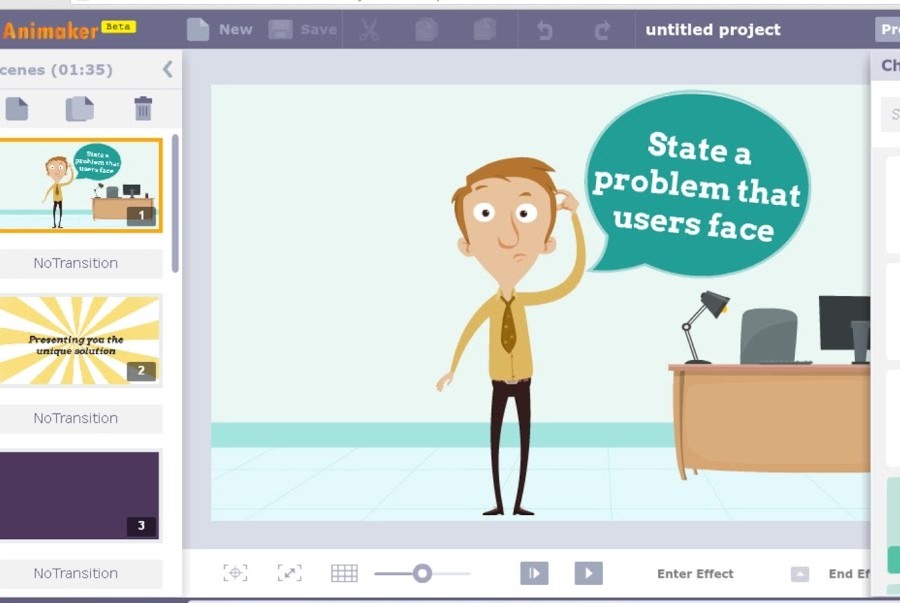 K-3D
OS: Available for Linux, macOS X, FreeBSD, and Windows platforms
Price: Free
Key features:
K-3D generates its views using the platform's foundation. As a result, it adopts a native look and feel, making it an excellent platform for new digital artists.
Powerful features with easy-to-use property adjustments
Pros:
Flexible for simple or complex workflows
A large number of plugins are available.
Cons:
Not enough user instructions.
Because it simplifies animation, the dynamic 3D animation program K-3D is popular among video makers and artists. K-3D has a lot of plugins to make the animation process easier but cheaper.
K-3D is very adjustable, and it may be tailored to the artist's preferences. The capability of its visualization pipeline architecture, however, is where the value of this handy 3D animation program lies.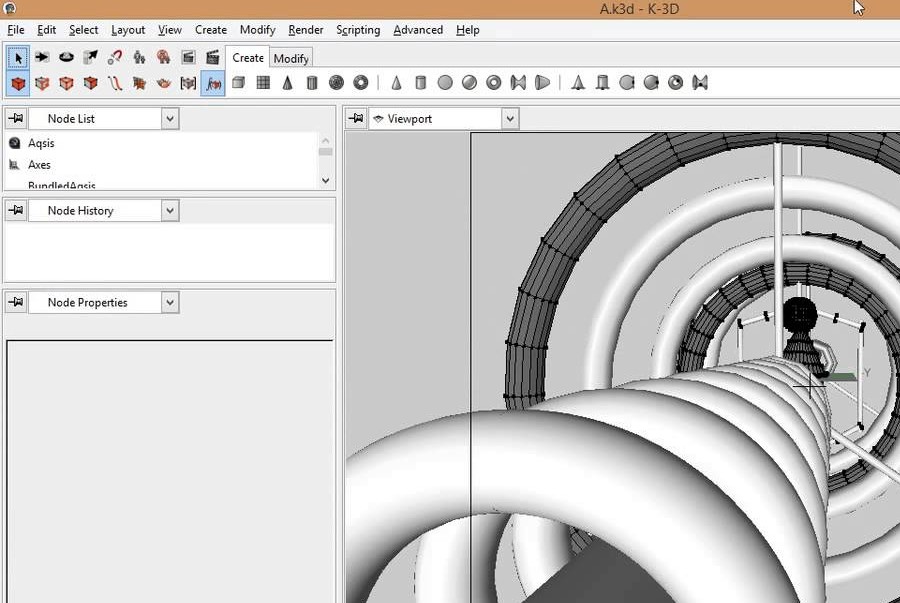 Conclusion
To sum up, animators working on films, TV shows, visual effects, and architectural representations need the greatest 3D animation software. When it comes to selecting the best 3D animation software for you, there are numerous aspects to consider. Depending on the software you use, the available features, usability, and applications vary, so you must know what you're doing. Of course, you must also consider the cost. VFX Rendering hopes that our article about 10 best 3D animation software will provide the information you are looking for.