Blender vs Cinema 4D: Which is better for your CG field?
3D modeling and animation are a crucial part of the 3D production, requiring powerful 3D software packages in the process. In this article, VFXRendering is going talk about two popular and robust 3D software: Blender vs Cinema 4D. Which one of them is better for your creative field?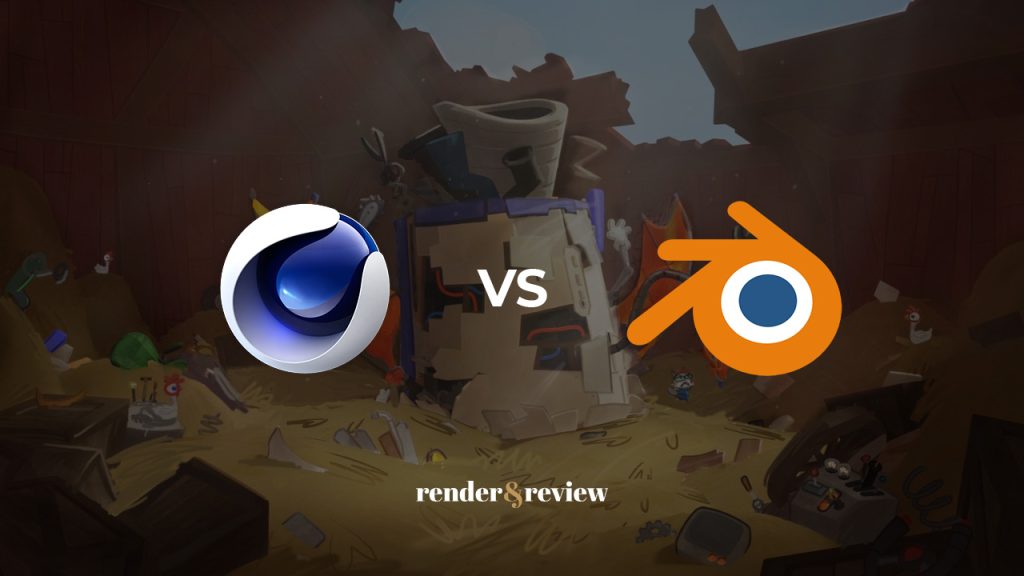 What is Blender?
Blender is a free and open-source 3D creation application. It is a public project hosted on blender.org, licensed as GNU GPL, and owned by its contributors. For that reason, Blender is free and open source forever.
Despite being a free application, Blender is very powerful and flexible. Artists can use it for almost any purpose, whether for 3D modeling, sculpting, animation, rigging, VFX, story art, and more.
What is Cinema 4D?
Cinema 4D is an intuitive 3D modeling and animation software that enables users to bring their creations to life seamlessly. Developed by Maxon, the 3D software offers robust tools so that you can create intricate 3D models with ease and precision. But it can do more than that. Cinema 4D is also an excellent solution for simulation and rendering.
It helps to create stunning renders for a variety of uses such as design, motion graphics, visual effects, AR/MR/VR, game development, and others.
Blender vs Cinema 4D: Which is better for your CG field?
Artists use Blender and Cinema 4D in a wide range of fields, including architecture, video games, commercials, films and television, and many more. We will compare Blender vs Cinema 4D to see what they can do across various 3D industries.
3D Modeling & Sculpting
First, let's talk about the 3D modeling and sculpting tools.
Blender has many advantages in 3D modeling and sculpting over many 3D software. In particular, it has a wide range of addons (built-in and third-party) to make your creative process easier and faster. Besides, it offers lots of modifiers. Those addons and modifiers empower you enormously in your creation, especially for architecture and hard surface modeling.
Moreover, Blender is great for sculpting and is one of the best alternatives to ZBrush. You can find many sculpting features in Blender that are similar to those in ZBrush.
On the other hand, Cinema 4D has handy tools for modeling and sculpting. Even though it has less ability than Blender, C4D has a lot of tools like Deformer or Volume Builder to support you.
Architectural Visualization
In the architectural visualization field, Blender includes a wide range of tools for modeling, texturing, lighting, and rendering. So that it can help architects and designers create and render their interior and exterior scenes easily. On top of that, there are a lot of add-ons in Blender you use to make the process faster and more seamless, both paid and free. For example, some add-ons allow you to houses and buildings in hours rather than days.
In addition, Blender has a great system for adding materials and lighting. Then when it comes to rendering, Blender has two powerful render engines: Cycles and Eevee. The former for doing final renders, and the latter for real-time rendering.
Cinema 4D is also an excellent 3D application for architectural visualization. It is also good at modeling, adding materials, lighting, and rendering your interior and exterior scenes. One of the great things about Cinema 4D is its simplicity. Therefore, beginners and those who are not familiar with complex 3D software can easily learn and use the software to create beautiful houses and buildings.
Moreover, Cinema 4D has support for the most popular third-party add-ons in the industry, whether it is for rendering, modeling, populating, adding materials, and more.
Image source: blender.org
Animation
Blender was developed to be a 3D modeling and animation software in the first place. So it has many good and intuitive tools for animating. The Blender animation studio worked on many animated films to showcase its power such as Charge or Sprite Fright.
When it comes to 2D animation, Blender has a fully-fledged 2D animation system known as the grease pencil. It can do almost everything you need for 2D animation. Moreover, the studio used it to create full animation movies such as I Lost My Body or Hero.
In addition, the 2D drawing and animation tools in Blender are not limited only to character animation, because it also is used for doing concept art, storyboarding, and 2D motion graphics.
On the other hand, Cinema 4D has added good, easy-to-use rigging and animation tools. As a result, animators are able to animate easier and faster. In addition, the 2D animation tools in Cinema 4D are pretty limited. But there are some toon shading features that can help you turn 3D stuff into 2D.
Overall, Blender provides excellent rigging and animation capabilities that can help you animate almost anything.
Motion Graphics
Blender is a good software for motion graphics. It has good tools for animation, simulation, dynamics, or anything else needed for motion graphics work. In addition, there are some nice add-ons that can make the process easier and faster.
However, when it comes to motion graphics, Cinema 4D is the go-to 3D software. It includes many easy-to-use and user-friendly tools and features for modeling, animation, simulation, and effects to cater to this section of the computer graphics industry. A wide range of studios and artists have used this software to create motion graphics in their films and TV commercials.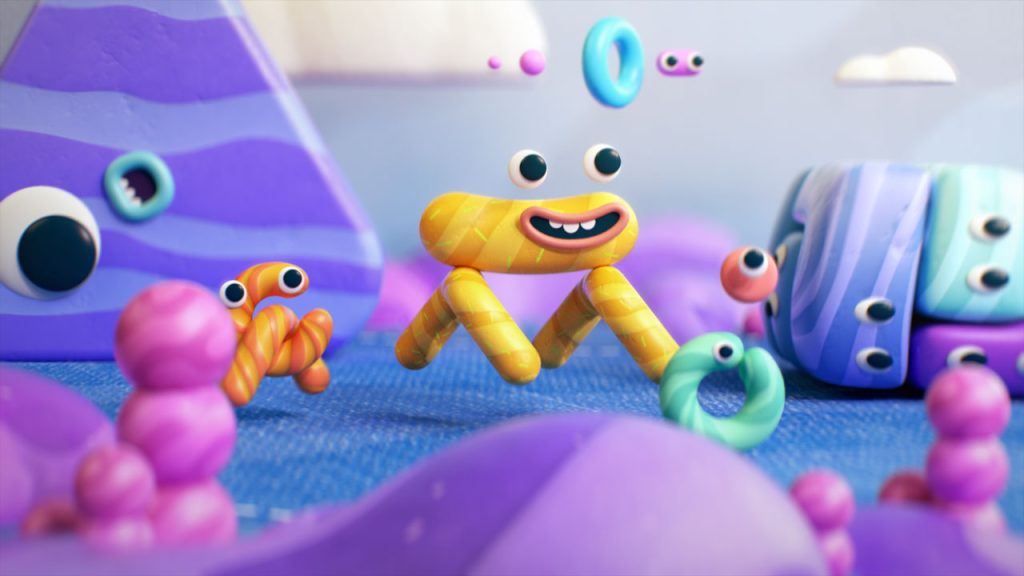 Image: Woosung Kang – Coloso
All in all, Cinema 4D together with various tools and features has been used for motion graphics for a long time. The motion graphics designers love it. Also, Blender having a lot of powerful tools is catching up with Cinema 4D in this field.
Simulation, Dynamics, and VFX
When it comes to simulation, dynamics, and visual effects, both Blender and Cinema 4D have good tools for creating soft body and rigid body dynamics.
For simulating cloth, liquids, fire, and smoke, Blender has advantages over Cinema 4D due to its native tools. You can also make use of its emerging powerful tools and add-ons such as FLIP Fluids.
Cinema 4D, on the other hand, relies on third-party plugins to do this type of work. For example, X-Particles is one of the best and most popular simulation tools for C4D to create particle simulations like smoke, fire, fluids, grains, and dynamics. There are many other strong plugins for Cinema 4D such as TurbulenceFD for creating fire, smoke, vapor, dust, clouds, and other effects, RealFlow for simulating liquids and water surfaces, etc.
In addition, both Blender and Cinema 4D have good motion tracking tools for visual effects, which is more suitable for low-budget films.
Render engines
In terms of rendering, Blender includes two built-in strong render engines: Cycles and Eevee. Cycles is a physically-based production renderer whereas Eevee is a real-time render engine. Both of them are great and can help you produce out-of-the-box results. On top of that, if you already use OctaneRender, Redshift, V-Ray, RenderMan, LuxCoreRender, or a few more, you can use them as third-party render engines for Blender.
Same as Blender, Cinema 4D offers two built-in render engines: Advanced and Physical Renderers. Both of them produce fast and beautiful renders. However, they are not the only rendering options for C4D artists. The software has a wide range of third-party render engines, including Redshift, OctaneRender, Arnold, V-Ray, Cycles 4D, Corona, and so on. Especially, Redshift and OctaneRender are the two most popular renderers among C4D users, thanks to their super fast speed and high-quality renders.
Conclusion
So which is better for your CG field: Blender vs Cinema 4D? The answer depends on the types of projects you are working on. You may find Blender or Cinema 4D is better in different use cases.
Overall, Blender vs Cinema 4D are tough competitors. Cinema 4D is the industry standard and widely used by professionals for a long. Blender has its own community, also, plenty of artists have started to integrate it into their workflow.
See more: