Top 3 best GPU render farms comparison
In the series of testing real projects on render farms, we now move to a new article: top 3 best GPU render farm comparison. Before going to our project on video test today, you can follow the series of best GPU render farm comparisons here.
When you use a render farm, there are some factors that affect your choice such as speed and cost. And among 5 best render farms which appear a lot in our site and our tests (they are Fox render farm, Garage, iRender, Ranchcomputing, Rebus farm), we have selected three best farms. Today in this article, we will find the fastest and cheapest one for you.
Check more tests from us here:
What is the project we run today?
We will run the test with a very popular combination: Cinema 4D and Redshift. The project has 210 frames with 1920×1080 Resolution. The project's size is 365 Mb and the version of 3D software that we use is Cinema 4D 2023.1.3 and Redshift 3.5.10.
Below is our image for testing in this video. And a summary of the project:
Size: 365 Mb with 210 frames, 1920x1080px.
Software: Cinema 4D 2023.1.3 and Redshift 3.5.10
Global Illumination enabled
Trace Depth: 4
Brute Force Rays: 16
Threshold: 0.01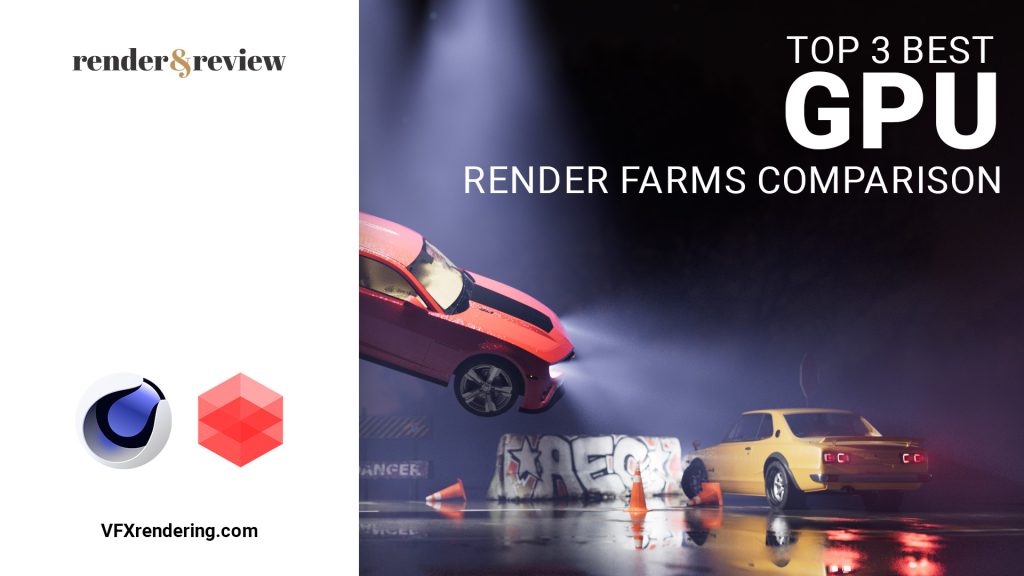 Will not make you wait any longer, let's get started!
Garage Farm
First of all, we run the test with Garage Farm. If this is your first time using this render farm for Cinema 4D, you can start your trial with $25 free credits – it is an extremely good promotion for you to try.
To use this render farm, we need to download and install their plugin "renderBeamer". This plugin will automatically integrate into your Cinema 4D. "renderBeamer" allows you to directly send the project to the software interface without Garage Farm's website.
Click "renderBeamer" inside Cinema 4D to upload the project to the farm. After successful uploading, we set the parameters.
After clicking Submit to send them the job, GarageFarm will start to render. Because we select High priority, we don't need to wait in the queue. You can check the farm queue on top of the interface, more jobs will mean you need to wait longer for your project to be rendered.
After finishing the rendering process, we take the results. The render time is quite fast, it is 46 minutes in total and the render cost is $145.08 in total. On average, each frame completes in around 13.2 seconds.
Ranch Computing
Next, we run the test on Ranch Computing. Ranch Computing allows you to send the projects with Cinema 4D directly via a plugin called "RANCHecker". This plugin will check your scenes before sending them to RANCHsync for rendering.
After downloading and installing RANCHecker, you send the project to it. Then, their plugin will check your project, parameters, version of the software, and plugins in your project. After that, go to the Web Manager to submit your project: choose Cinema 4D with the version of the software and Redshift's version that you use.
There are five priorities at RANCH. We go with the GPU-Low one.
After finishing the rendering process, we take the results. The render time is slightly faster than Garage, it is 40 minutes 09 seconds in total and the render cost is €111 (approximately $118.95) in total. On average, each frame completes in around 11.5 seconds.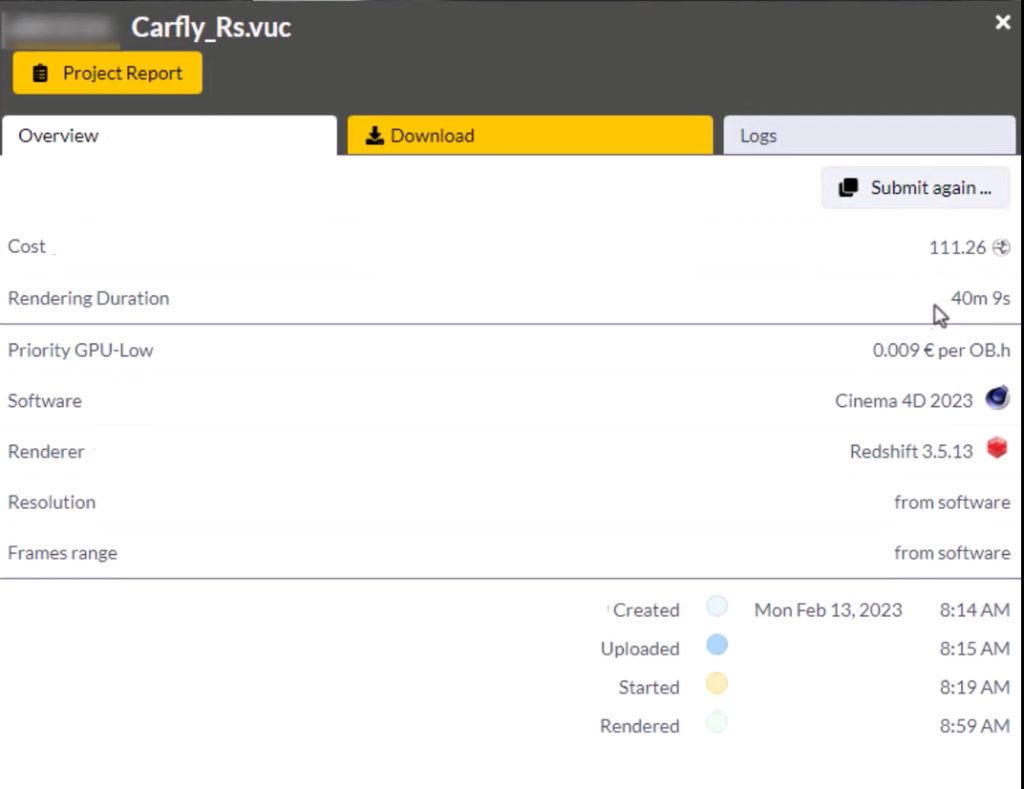 iRender Farm
Let's move to the last render farm in the test today – iRender Farm. As you know, iRender Farm has a few differences from the render farms above. You need to upload the project via their transferring app, "iRender Drive", choose the suitable iRender server, and set up your work environment on your rented server.
iRender is more optimized for GPU rendering, so they offer a lot of service packages with different GPU specifications for you to choose from. Because Redshift is a GPU-intensive renderer, it can take full advantage of those packages. In this case, we select server 5S: 4 GPU RTX 4090 with AMD Ryzen™ Threadripper™ PRO 3955WX @ 3.9 GHz.
After setting up the work environment and installing Cinema 4D 2023.1.3 and Redshift 3.5.10, we send the file to the farm for rendering. In this step, you can use the farm as your own workstation.
iRender allows you to use many machines at the same time. That's why we are able to create 5 machines and render them at the same time, each machine will render 42 frames of the project.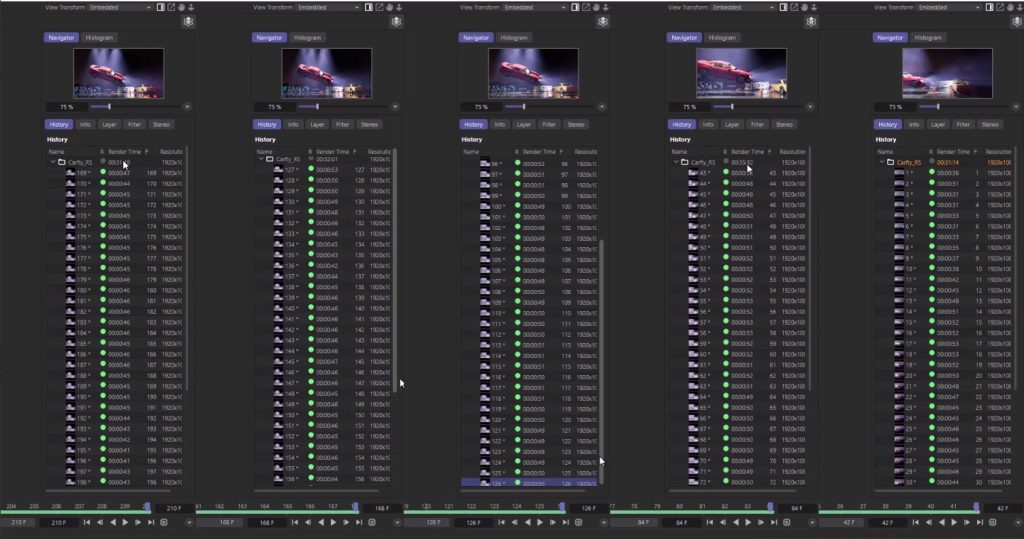 Let's see the render result. It cut down the render time a lot. It took about 35 minutes and 36 seconds in total, costing us only $90. On average, each frame took around 10.2 seconds.
GPU render farms test result
After finishing the testing process, we summarize the results as shown in the image below.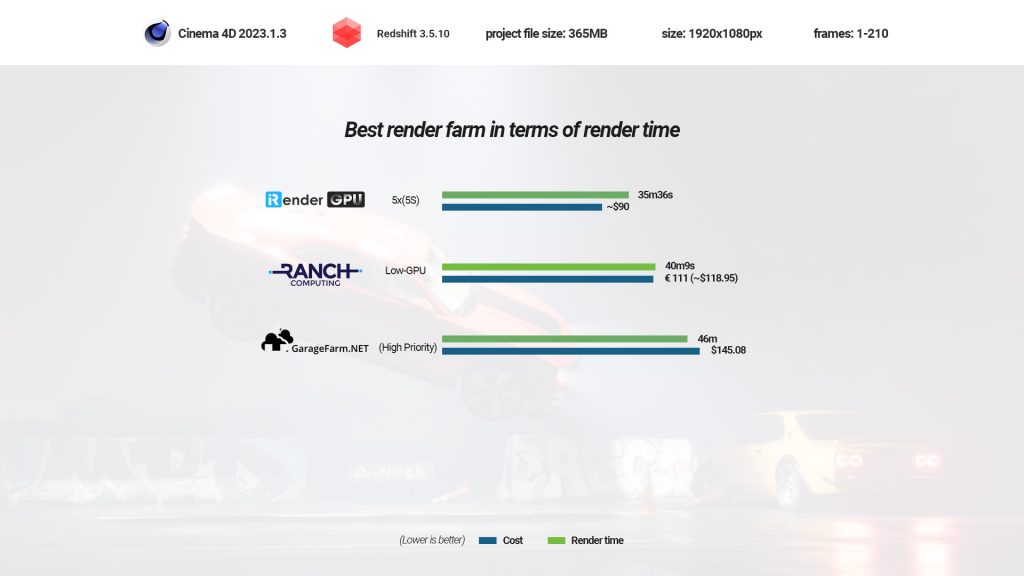 From the test results, iRender is the best GPU render farm in terms of speed and price. RanchComputing is the second best GPU farm while Garage is the third one. 
The price of iRender is pretty impressive when it's only $90 for hardware like RTX4090. While with the other render farms, we may not have a chance to use the GPU like that. Or if we select high priority or high GPU, the price could not be reasonable like that.
| | | |
| --- | --- | --- |
| Render farm | Render time | Total cost |
| GarageFarm | 46m | $145.08 |
| RanchComputing | 40m09s | $118.95 |
| iRender | 35m36s | $90 |
Wrap up
That's all about our test project of 3 GPU render farms comparison today. Hope you can find a suitable GPU render farm for your projects.
So, following the test results, we have 2 tables ranking as follows:
Speed ranking
Price ranking
iRender
Ranchcomputing
GarageFarm
iRender
Ranchcomputing
GarageFarm
If you want us to compare the best render farms for any software, please comment or send a request to admi[email protected]. Stay tuned for the next post in this series!
See more: Top 5 Best Render Farms For GPU & CPU