Top 5 best render farms 2023 for CPU & GPU
In recent years, we have witnessed many new render farms born and die, but the general trend of render farms has changed drastically along with a lot of new technologies supporting the 3D field. Not out of the game, VFXRendering has run many tests, and comparisons to find the right render farm position rankings. So, in this article, we will summarize for you the 5 best render farms 2023 by our recent tests.
Like our reminder many times, our rankings will be updated every 6 months and we will not stop running the comparison, and making videos. The rankings in this article are updated according to our most recent comparisons.
Without being lengthy to make you wait any longer, let's explore!
The 5 best GPU render farms 2023
We ran a series of tests with various 3D software and render engines to find the best render farm. If you haven't watched the previous comparisons yet, we've left the links below. You can read it or watch our videos below.
Top Blender render farm comparison
Top Redshift render farm comparison
Top Octane render farm comparison
Top GPU render farm comparison
The results of the tests are summarized in the table below!
Garage Farm
Rebus Farm
iRender Farm
Fox Render Farm
Ranch Computing
Blender render farm comparison(render an 144-frames animation 3.4, Cycles GPU, within $80 budget for each farm)
Frames completed
144/144
0/144
144/144
52/144
36/144
Total price
28.38 RPs
321.50 RPs
21 RPs
81.793 RPs
80.73 RPs
Total time
17 min
19 min
28 min
~2 hours
3 min 2s
Top Redshift render farm(render an 8-frame, 1920×1080, C4D R26 & Redshift 3.5.10)
Total prices
0.53 RPs
2.08 RPs
1.82 RPs
1.16 RPs
4.16 RPs
Total time
~7 min
4.79 min
3 min 54 seconds
~10 min
2 min 26 seconds
Top Octane render farm(render an 21-frames, 1920×1080, C4D R26 & Octane 2022.1)
Total prices
Not support
8.78 RPs
2.7 RPs
Not support
16.38 RPs
Total time
Not support
12 min 18 seconds
10 min 51 seconds
Not support
4 min 36 seconds.
Top GPU render farm(Render an 210-frames 1920×1080, C4D R2023.1.3 & Redshift 3.5.10)
Total prices
$145.08
–
$90
–
$118.95
Total time
46 min.
–
35 min 36 seconds.
–
40 min 09 seconds
Look at the table summarizing the results above. We can see that for GPU rendering, we can rank the positions as follows:
The 5 best CPU render farms 2023
According to our render farm test projects: render a 210-frame, 1920×1080 resolution project with Cinema 4D R2023.1.3 and Arnold 4.5.1. We have the rendering results below: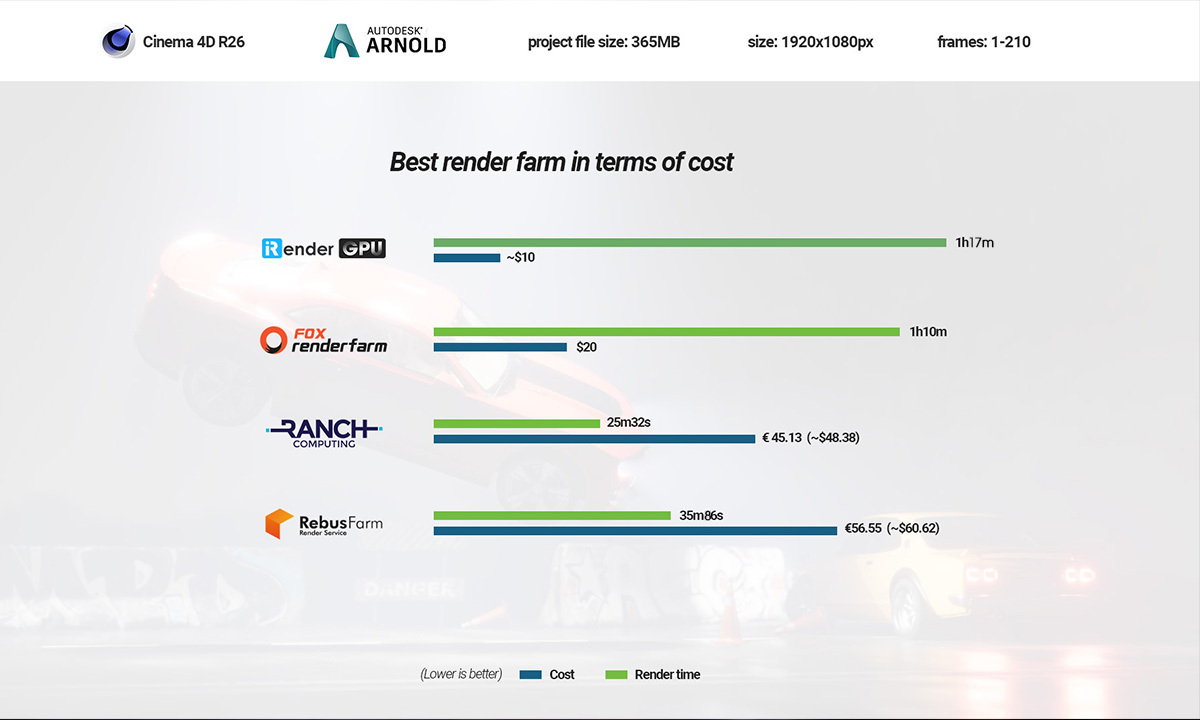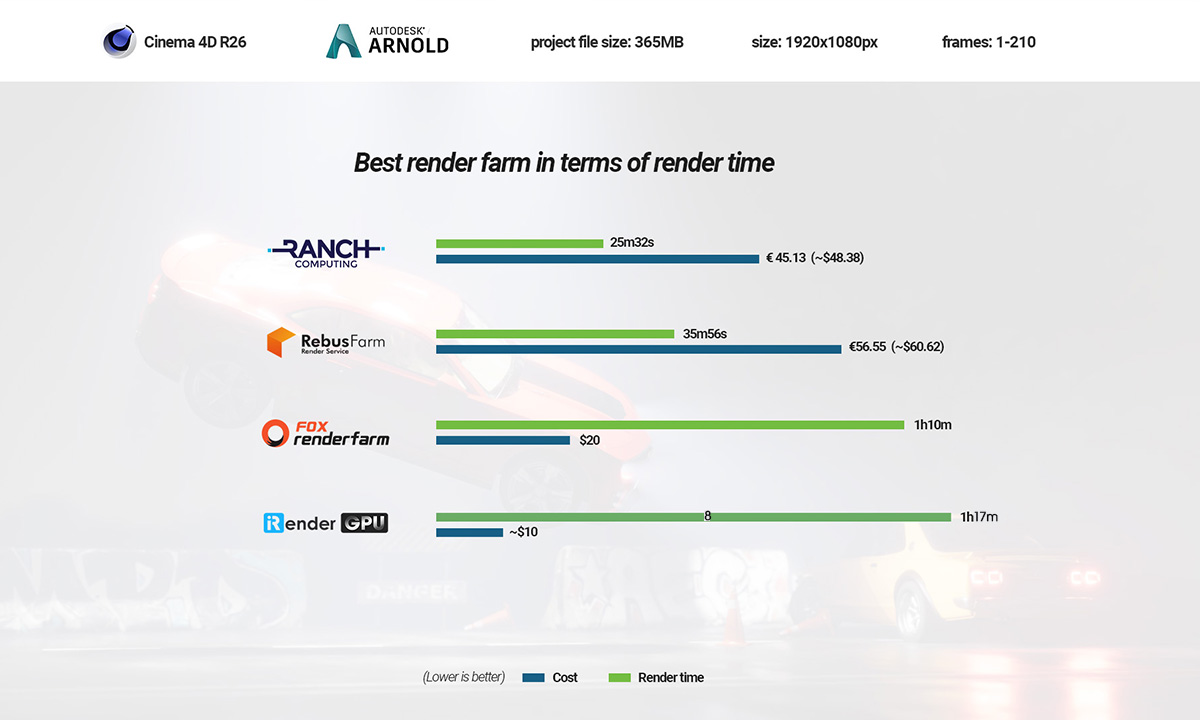 You can read the detail of the test in the article: Top 5 best CPU render farm comparison
Or in this video below.
Clearly, we have the top 5 best CPU render farms in 2023 as follows:
Conclusion
Finally, we can make our own recommendations for the 3 best render farms in 2023: Garage Farm, iRender Farm, and Ranch Computing. Garage Farm is the cheapest render farm and has fast render times, but it does not support certain 3D software and render engines. iRender Farm is the fast and most balanced render farm in terms of cost and renders speed. This render Farm supports all current 3D software as well as rendering engines. And, Ranch Computing is the fastest render farm with the highest cost.
We understand that change is inevitable and there are a lot of render farms out there. They can replace the render farms in the ranking in the future if this render farm stands still.
And we will come back with a new series of render farms comparisons after 6 months to update the ranking. We plan to invite some popular render farms to join our battle and make a new series of render farms comparison. Please wait for the next battle of the render farms series. See you in the next article!
See more: Top 3 best GPU render farms comparison