Overview of the best render farms in 2023 and expanding the rankings
When looking back at 2022 to the present time (March 2023), we can clearly see the dominance of 5 render farms: RebusFarm, Fox Render Farm, iRender Farm, GarageFarm, and Ranch Computing in the CG industry in general and cloud computing in particular. However, we can see a lot of render farms that are doing well in one field out there. We are really grateful to you for that.
As promised, every 6 months we will update our rankings. So in this article, we want you to have a more comprehensive look at "how we have found the 5 best render farms in 2023" and our plan to expand the rankings this year.
Don't make you wait any longer, let's get started!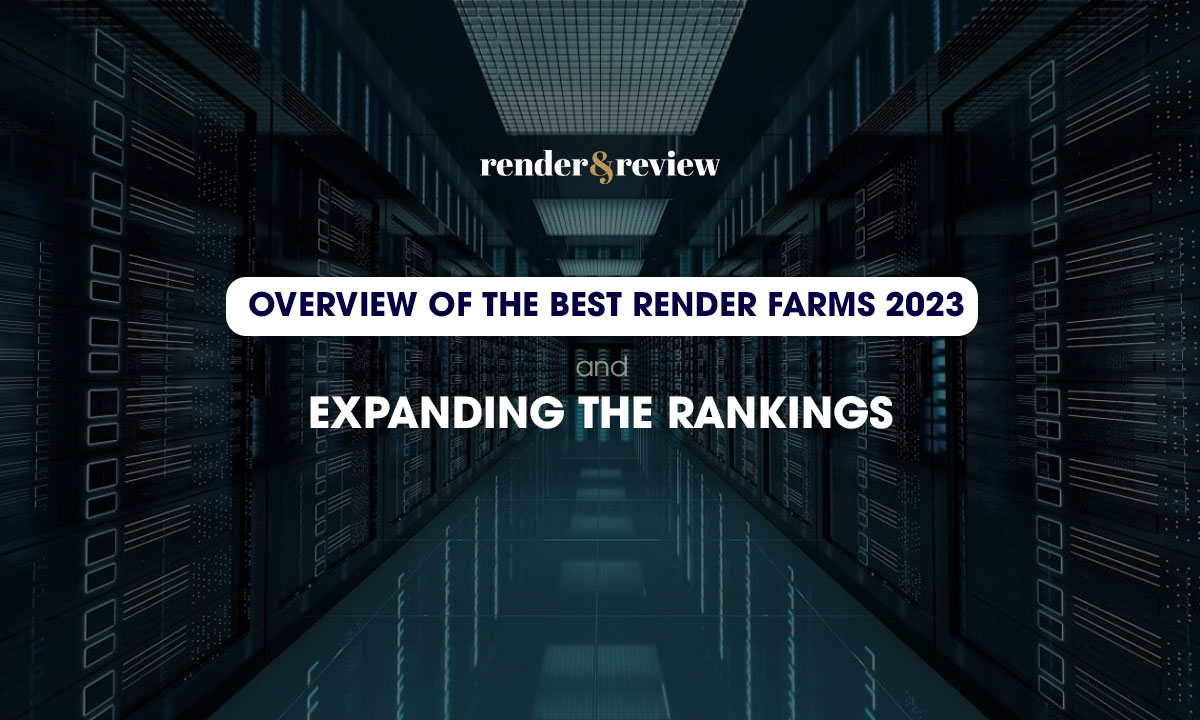 How do we find the best render farms in 2023?
Like a lot of ranking of render farms around the world, we have our own set of rules for searching, evaluating, and selecting render farms for our ranking. It is a guideline for us to provide you with the most objective view.
Here are three factors that we use to evaluate a render farm:
Brand popularity.
The number of customers served (software and hardware).
Run some tests.
And to be more clear, let's take a closer look at our 5 best render farms in 2023.
Brand popularity
We are 3D artists, so we will stand on the client's side to see the popularity of a brand through search engines. Specifically, we use Google for most of our reviews. And when we do a search, we get listings for further evaluation. When sifting through the details, we got results with the 5 render farms with the highest brand popularity is iRender Farm, Garage Farm, Fox Render Farm, Rebus Farm, and Ranch Computing. They have been ranked a lot on different rankings (such as All3D, CG Director, Radarender, Inspiration Tuts, etc…) and have very high organic traffic compared to other render farms.
To be objective, we use a popular traffic measurement tool is SEMrush to check the websites in our sights. Let's check some results below.

You can see the traffic of our 5 best render farms, iRender has the highest Organic traffic (27.5K), and after that is RebusFarm (22.2K), and GarageFarm (17.2K).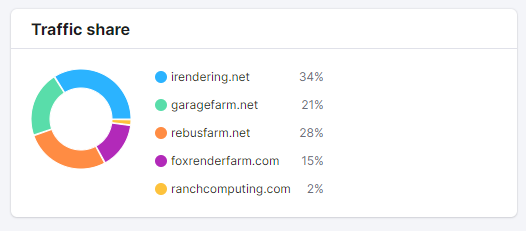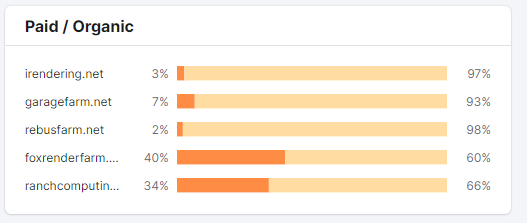 When looking at the above figures, we can easily see the popularity of brands. At the same time, we also appreciate brands with high organic traffic like RebusFarm, iRender, and GarageFarm. Because we consider that, the organic traffic says that the website really has a great impact on users.
The number of customers served
This is the second factor that we are extremely interested in. We try to find render farms that can serve the majority of customers around the world. And we rely on the software that a render farm support and the hardware they provide.
Software
When you look at our 5 best render farms in terms of software application, you can see that they can provide a variety of services for much different 3D software such as Houdini, Cinema 4D, 3Ds Max, Blender, Maya, etc. Where their customers can use the service regardless of the workflow and it is good for almost 3D artists.
Hardware
We are really grateful that render farms in the top 5 render farms in 2023 always have the fastest hardware updates. They own the most powerful CPUs & GPUs available today. This shows that they really care about each user's experience.
We can take a few specific examples as follows: iRender is the first render farm that uses GeForce RTX 4090 (newly officially opened for sale on October 12, 2022) and AMD Ryzen™ Threadripper™ PRO 5975WX on their service. RebusFarm provides AMD Threadripper 3970X and Quadro RTX 6000. Fox RenderFarm has Intel Xeon 8179M and GeForce RTX3090. And GarageFarm provides Intel Xeon v4 and Nvidia RTX A5000.
Run some test
This is the last and most important factor for us to rank a render farm. To find the 5 best render farms in 2023, we ran a series of tests and render farms comparison. You can check a summary of their tests here, or see more on a specific case basis as follows our Youtube channel.
Or you can follow here:
Expand the rankings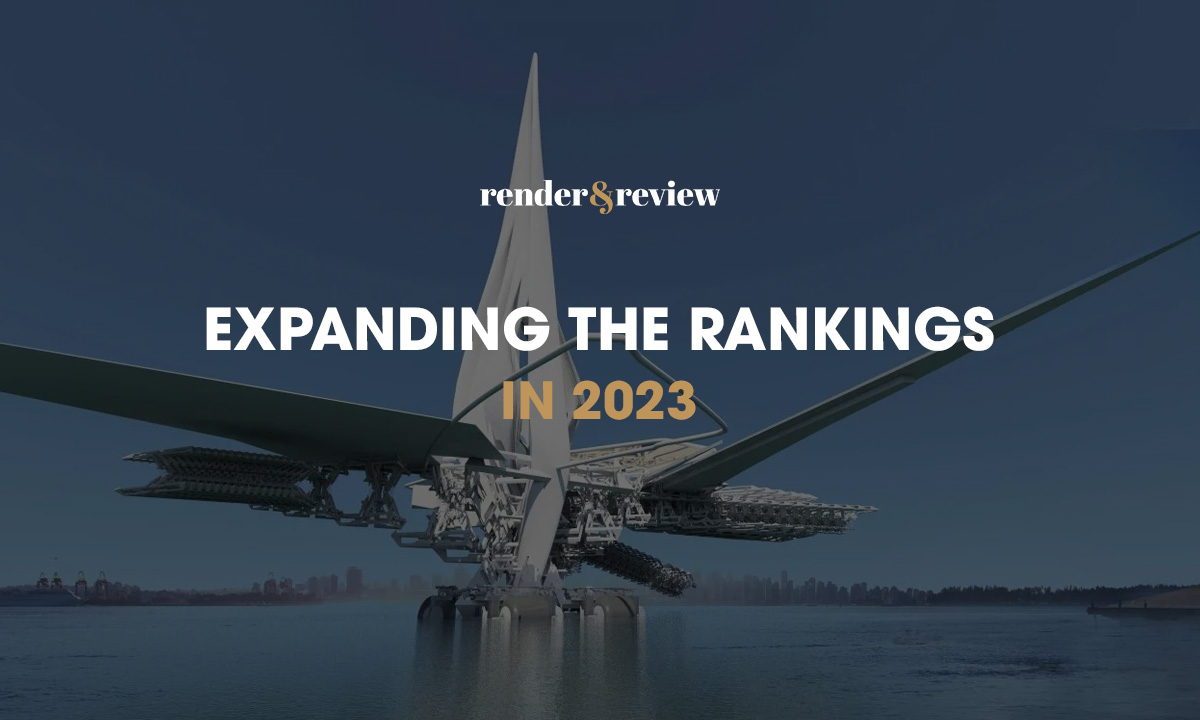 We know that there are many excellent render farms out there in a certain field. We truly appreciate your contribution and we don't want to miss any render farm out of the game. Therefore, in this year 2023, we will expand our rankings to review more render farms. We plan to run a series of tests and comparisons in the specific cases with Cinema 4D, Houdini, Blender, Maya, and Unreal Engine to find the best.
Right now, we have started our work. However, we are pleased to invite your render farms to participate in our experiment. You can join the ranking of the 10 best render farms in general or any of the "top 5 best render farms for Houdini/Cinema 4D/Maya/Blender/Unreal Engine".
According to our road, we will have a ranking of 10 best render farms in 2023 and 5 other rankings including:
Top 5 best Houdini render farms in 2023
Top 5 best Cinema 4D render farms in 2023
Top 5 best Maya render farms in 2023
Top 5 best Blender render farms in 2023
Top 5 best Unreal Engines render farms in 2023
If you are interested in any of our comparisons, please email [email protected]. We sincerely thank you for your participation.